Manufacturer of Custom made blinds
Choosing Custom made blinds can be a fun or stressful task. It depends on the place, the space that is available, and the lighting that you want to give to achieve a good result. UNITEC ROLLER is a pioneering company in the field of blinds and curtains in China, which is a leading manufacturer of fabrics for roller blinds, sunscreen roller shades and zebra blinds (day and night roller blinds); to help you realize your dreams, ideas and renovate the environments of your home or office.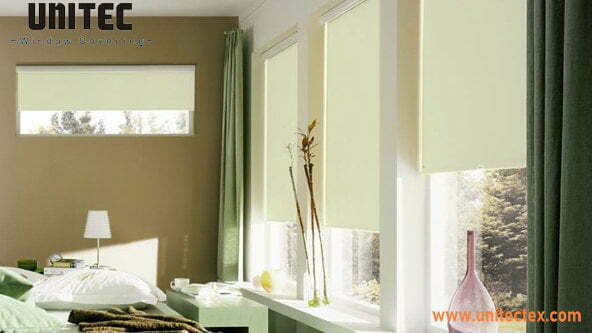 The right Custom made blinds are the best complement to decorate windows, and why not, become the focal point of decorating your home or office. Believe it or not, selecting the right blinds and shade model can dramatically improve the appearance and lighting of any setting. If you still do not know which Custom made blinds you are going to use, it is best to seek advice to avoid making mistakes.
"The raw material for the manufacture of the UNITEC ROLLER Custom made blinds is produced by ourselves. All Custom made blinds are locally produced by our partner company. They are all made to measure" says María from the Sales Department of UNITEC Textile Decoration Co., Ltd.
"Sunscreen fabrics, for example, filter sunlight, allowing visibility of the outside environment. They avoid the reflection of light on the screens and control the brightness of the environment without causing the sensation of confinement. The range of colors is very wide both in fabrics and in other materials such as aluminum, PVC and fiberglass ", comments María.
CHOOSE THE CUSTOM MADE BLINDS THAT BEST SUITS YOUR SPACE
The UNITEC ROLLER Blinds & Shades Collection is specially designed to create environments to suit you, so it suits your budget. In their vertical and horizontal presentations, the Custom made blinds allow creating pleasant environments in homes, commercial premises, or offices.
The vertical blinds visually expand the rooms in height and allow you to divide spaces with elegance, as well as granting privacy. On the other hand, the sheets of the horizontal blinds, made of aluminum, allow upward and downward movements, as well as rotating; thus managing to graduate the light according to your need. Its varied plain colors, from warm to cold, allow you to select the most appropriate option of the Custom made blinds for your needs.
The use of outer space has become a necessity of our days. Flexibility is essential: managing sun rays, rain, wind, and visibility are the objectives of the pergolas, which aim to achieve them with aesthetics and practicality.
A pergola Custom made blinds are basically a metal or wooden structure with a movable roof. It can be delimited with a floor or deck, laterally closed with vertical awnings, be illuminated, heated, in short, provide it with all the comforts one wishes.
UNITEC ROLLER pergolas are a novelty in 2016 and are offered with an aluminum or painted steel frame and a Roman movable ceiling in vinyl or acrylic fabric, manual or motorized. An important detail in its manufacture is the use of fabric holders and aluminum guides ensuring leveling and smooth operation of the ceiling. The desired lighting can be incorporated into the structure and closed laterally with vertical screen awnings which will allow achieving a degree of solar control. A perfect choice to enjoy both day and night in the garden.