White blinds ideal for any room
Do you know white blinds are ideal for any room?
Many times we will have thought that color would be better with the decoration of our house.
Deciding on a white blinds, we believe that it is the most successful bet. Once we have decided we will have to decide what type of opening we want if we want a SCREEN, TRANSLUCENT OR BLACKOUT ROLLER BLINDS FABRIC.
We have opening factors from 10% to 1%, the higher the factor the more light will enter us.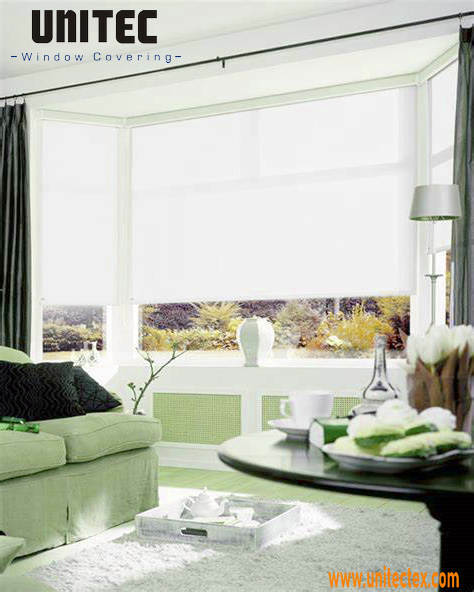 White roller blind Screen Inspire model made of PVC and polyester with white color finish in a false design ideal for screening light entering through windows. It incorporates a round counterweight with fabric slipped on the tube, ideal for easy trimming and preventing the fiberglass bar from being seen, without the need for a drawer.
It is placed on the wall or ceiling with perforation. Thanks to this simple and decorative element you will be able to regulate the amount of light that enters the rooms, protecting the interior of your home from UV rays and saving on energy consumption both in winter and summer by working as an insulator. This series is equipped with child safety to prevent the blind from jumping over if handled by the smallest of the house. It incorporates a mechanism positioned to the right or left activated by a white chain.
We can not forget the white blinds which are perfect to install where we do not have blinds since they provide us with zero visibility both outside and inside.
Another fabric that will give us a touch of elegance is the Day and Night Blind which thanks to its horizontal stripes can regulate it and thus regulate the light that we want to enter.
White Translucent Day and Night roller blinds with classic design in gray – silver. It is made of polyester with fabric slipped on the aluminum tube, ideal for easily trimming it to the width you want. It has a reversible mechanism positioned to the right and includes hardware for installation. This day and night zebra blinds fabric will allow regulating the entrance of light to any of your rooms in addition to decorating the living room and bedroom windows.
The traditional blind with rods or linen package could be another option.