Fabric Vertical blinds: what you should know
Today we bring you a new blog entry in which we want to show you the most outstanding characteristics and qualities of Fabric Vertical blinds and slats, as we often find that our clients only associate them with their use in offices and homes.
Fabric vertical blinds slats description
Currently, Vertical blinds are available in a wide variety of fabrics, colors, combinations, … which makes it one more decorative element to take into account, both for professional settings: offices, hotels, … and for the home.
The Fabric Vertical blinds slats are a decorative and functional element characterized by their simple, elegant and thin vertical slats.
They offer multiple options when configuring them. They have a variety of fabrics to choose from such as translucent, opaque or printable fabrics among others.
Its mechanisms allow the Fabric Vertical blinds slats to be oriented to decide the amount of light input that we are looking for in the room. They are ideal for stays dedicated to rest or areas of constant passage. The available slat widths are 89 mm and 127 mm. The type of slat collection can be: right, left, both sides or central.
Among the advantages to highlight of this system is the ease of controlling the passage of light and privacy through the regulation of the slats and the ability to adapt to complex cases, such as sloping ceilings, variations in slat height, curved structures, … they become a viable system where others have to be discarded.
The possibility of making color combinations of the different Fabric Vertical blinds slats will allow us to create unique spaces. We can produce the colors according to the personal taste of each one, arranging them alternately, in stripes, by areas, … all this both at the time of its installation and at any time when we want to carry out a renovation in the decorated environment.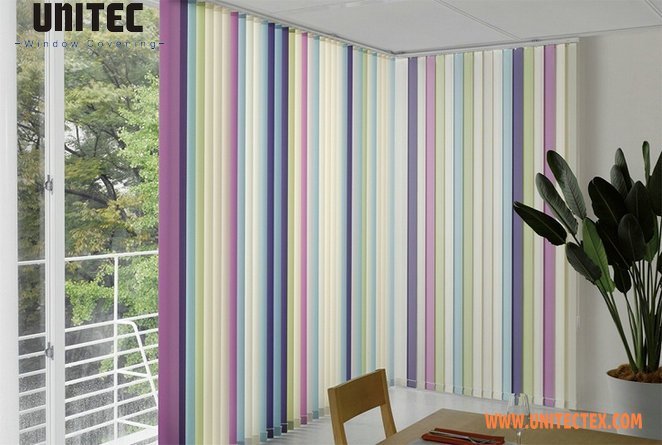 As with the Japanese panels, the Fabric Vertical blinds can also be used as a room divider in the same room, allowing spaces to be opened or closed quickly, economically and without works. This is a growing trend as it allows the use of spaces and natural light to be maximized at a reduced cost and without the inconvenience caused by the reforms.