Curtains for large windows and large spaces
Curtains for large windows
When selecting curtains for large windows, we have multiple doubts about the final result of our choice. A hall in a large restaurant, a huge showroom, or a large event venue requires suitable curtains for this type of space. Generally, these spaces usually have very large windows or windows that are symmetrical with the dimensions of the space or place.
Finding curtains for large spaces is if possible much more complicated than choosing those in our living room or kitchen. We must also start from the fact that the curtains should not only be integrated with the decoration of the space and allow to regulate the entry of light from the outside with ease. That's what day and night curtains are for. Other aspects must also be taken into accounts, such as the need or not to protect the privacy of the premises or the type of maintenance and cleaning they require.
Curtains for very large windows
In this article, we would like to show you some of the options that exist and that we have at UNITEC Textile Decoration (a Blinds Fabrics Manufacturers that specialized in producing a wide variety of roller blinds fabric). The rest will depend on your taste and the approach you intend to give to space.
Roller Blinds
We start from the idea that the roller blinds that are placed on very large windows or windows must have stronger components compared to those used on standard size windows. The weight to which they will be subjected is greater compared to these and the resistance they must provide must be at the same time higher. Therefore we recommend that the installation be carried out by professionals.
At present, curtains for very large windows have been progressively used less in recent years. Roller blinds are therefore presented as a good option, both for their comfort and the possibility of tailoring them. This last feature makes roller blinds a very versatile element.
In large spaces where there are a large number of windows with their respective roller blinds, being able to operate them from a push button or radio motor is not a trivial matter.
Another aspect to take into account is the possibility of making them with any technical fabric and using a wide range of colors. With what the purely aesthetic options are very varied. Roller blinds also allow us to regulate the entry of light to our liking, with which it can be regulated by trying to condition the light to the type of event that is held in the premises.
Vertical blinds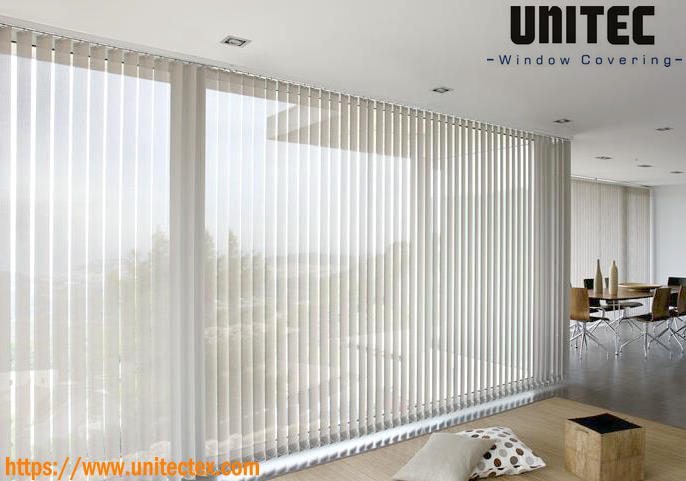 Putting Vertical blinds on large windows or bay windows is always going to be the first option for many. Currently, there is also a great variety in terms of curtains for large windows. It is possible that the place we work with requires more traditional elements and therefore it is more suitable to place traditional curtains than roller ones, always much more associated with modernity. In uneven spaces, Vertical blinds are likely to adapt better.
Vertical blinds can be perfectly adapted to large windows, even those that exceed three meters in height? UNITEC Textile Decoration offers the possibility of making them measure, with which it is possible to adapt them to any type of window.
Another advantage offered by this type of curtains is the possibility of modulating the light that enters the space to our liking. In this case, when dealing with such large windows and very wide spaces, it is more than likely that we will have to play with the curtains in order to fill the space with light or to minimize it, depending on the act or activity that takes place in the room. inside and even the outside climate.
But the conveniences of vertical shades don't end there. Although the lanyard system is still used, it also allows them to be operated through a remote-controlled motor system, guaranteeing maximum comfort.
Japanese panels
Although it is not usually too common to place Japanese panel curtains for large windows, it is still another option. In this sense, they can be a good alternative for large sliding windows.
Capable of creating a minimalist aesthetic and generating a modern and elegant atmosphere, they offer a wide variety of possibilities at a decorative level, since any pattern or color can be combined, although, from UNITEC Textile Decoration, we recommend using neutral colors, which are much easier to combine.
Japanese panels also offer other types of advantages. Both cleaning and maintenance do not present major drawbacks, so in very large places with a large number of very high panels, it can be a very practical option, since in this way you avoid spending too much time on these tasks.
To all this must be added that these panels are installed quickly and easily. The panels are attached with velcro and can be attached to both the wall and the ceiling, allowing the entire wall to be covered.
In large spaces, where the dimensions can be irregular and there may even be inclined parts or any other type of peculiarity, it is more than certain that a prior analysis and advice is necessary to find the best solution.
Regardless of whether we finally opt for Japanese panels, Vertical blinds or roller blinds, there will be a preparation and installation work that has nothing to do with what can be done in a standard home.
Therefore, an exhaustive recognition of the place is necessary and almost certainly an individualized solution, since this type of windows poses many more problems than those of common size
In this article, we have only tried to give you some general ideas when choosing between the models of curtains for large windows that we have. If you want more personalized and individualized attention, you just have to contact us, we are at your disposal.
---
You may be interested: