This white-coated blackout roller blind URB36 is a very popular product in residential and commercial applications. It is made of 100% polyester. This blackout roller blind is very fashionable and can bring people a good mood. The roller blind is made of 100% polyester fiber (100% PVC, formaldehyde, and halogen-free, which can help reduce toxins in the environment) and has a white foam coating on the back, which can more effective shading. White coating blackout roller blinds can be used for household blackout roller blinds, office blackout roller blind, airport blackout roller blinds, not only that but also for bathroom roller blinds.
The white-coated blackout roller blind URB36 does not allow light to enter the room and provides a 100% shading effect, thus bringing complete privacy. This polyester woven plain weave curtain fabric has a variety of colors, can provide another effect for the surrounding furniture, and can be comfortably matched with it in any environment. The color range of these colors is well coordinated with other UNITEC ranges and can be used with sunscreen roller blinds, vertical roller blinds, and zebra roller blinds. The white-coated blackout roller blinds URB36 can also absorb heat and isolate noise. We can also make production plans, product colors, and product effects according to customer requirements. This shading roller blind can also be customized to be fireproof, waterproof, and antibacterial.
Fabric Name: White coating blackout roller blind URB3601-3603
| | |
| --- | --- |
| Weave: | Blackout White foam coated |
| Composition(BO): | 100% Polyester, Acrylic Coating, Free of PVC |
| Width: | 2.0m,2.5m, 2.8m, 3.0m |
| Light Fastness: | 5-6 (Blue Scale) Tested to ISO 105-B02:2014 |
| Nominal weight: | 401±5%gsm (BO) |
| Nominal thickness: | 0.5mm (BO) |
| Standard Packing: | 30m/Roll (Can be customized) |
Code: URB3101-3106
Our delivery time is also very fast, and there are many fabrics for customers to choose from. Not only that, but the white-coated blackout roller blind URB36 series also has a 100% shading effect, allowing you to have your own private space. The white-coated blackout roller blind URB36 newly developed by UNITEC manufacturer helps maintain a comfortable, energy-saving, and comfortable living environment.
The white-coated blackout roller blind URB36 has excellent thermal and reflective properties because the back has a white foam coating, which helps to maintain an energy-saving environment and a comfortable living environment. The white-coated blackout roller blind URB36 is very suitable for offices, houses, bedrooms, movie rooms, and other places where privacy is required. Because when you lower the roller blind, very quiet space will appear, because the blackout roller blind will block external noise. Compared with traditional blinds, the white-coated blackout roller blind URB36 is more affordable and more practical. It can also be electrified to save your time and air conditioning costs. You can even arrange the roller blind to run automatically at any time in the morning or evening, which is not only beautiful but also popular.
The advantages of white coating blackout roller blind URB36 have the following four points
It may be completely dark.
The main feature of blackout roller blinds URB36 is that they do not allow sunlight or outside light to pass through, which will ensure our complete privacy. It is also great for promoting rest and relaxation at night. It can reach a completely dark environment, and it can also prevent sunlight from reflecting on the TV or computer screen, causing glare.
Have a sense of privacy.
Another advantage of the white-coated blackout roller blind URB36 is that since it is a 100% shading fabric, no one can see us from the outside. If we don't want to chat with our neighbors in the future, the white-coated blackout roller blind URB36 can guarantee our privacy and let you have your own space.
Can block ultraviolet rays
The white-coated blackout roller blind URB36 contains an ultraviolet filter and a white foam surface coating on the back to prevent it from passing through. This ensures protection of household items that may be severely damaged by furniture and sunlight.
It is recommended to use finished blackout polyester roller blinds in rooms where light input is annoying, but for offices, companies and meeting rooms where you must concentrate and avoid distractions
Very high damage resistance
The white-coated blackout roller blind URB36 covers a very practical fabric that hardly changes over time. It is very suitable for some harsh environments, with a shelf life of 4-5 years.
So are there any other advantages of the white-coated blackout roller blind URB36?
1. Strong decorative
Compared with other indoor window decoration products, the color coating shade URB36 itself has stronger plasticity and excellent decoration ability. From simple solid color appearance to rich and gorgeous patterns, it can meet various style requirements.
2. Good durability
Compared with other window decoration products, the color-coated blackout roller blind URB36 fabric is vertical, soft and not easily deformed, and the entire roller blind body is easier to clean and maintain.
3. Adjust the natural light
Because of the white light-shielding foam coating, it can eliminate the glare on the indoor computer or TV screen and improve people's visual comfort.
4. Heat preservation and energy saving
In summer, the shading system can be used to adjust the amount of incident sunlight to reduce heat input and reduce cooling load. In winter, the shutters can be fully opened during the day to ensure the maximum amount of light and heat enter and increase the indoor air temperature. The cold barrier saves heat.
5. Wide range of applications
The color-coated blackout roller blind URB36 has almost no limitations. According to different needs, it can be used for various architectural decorations, such as office buildings, hotels, factories, etc., not to mention applications in homes, living rooms, dining rooms, bedrooms and kitchens. Bathroom etc. You can find suitable roller shutter products on our website.
What is the typical lead time for an order?
Our production needs 4-5weeks after the deposit
What we do if the goods didn't pass the test?
1 Arrange for re-production (Focus on quality inspection during production based on test results)
2 Fabrics that have not passed the test are converted to domestic sales and sold to finished product factory.
What should we check before loading?
1. Quantity: We check the quantity of the entire order and randomly check the quantity.
2. Packaging: We check whether the packaging is intact.
3. Label: We check whether the label is complete.
4. Size and function: We measure the width and number of rolls.
5. Color: We use a spectrometer to check the color.
6. Shading performance: We use strong light to test the shading performance.
7. Flatness: We check the flatness of the fabric on the long table.
8. Skew and cupping/curling: We make finished blinds to test the performance of skew and cupping.
OVERVIEW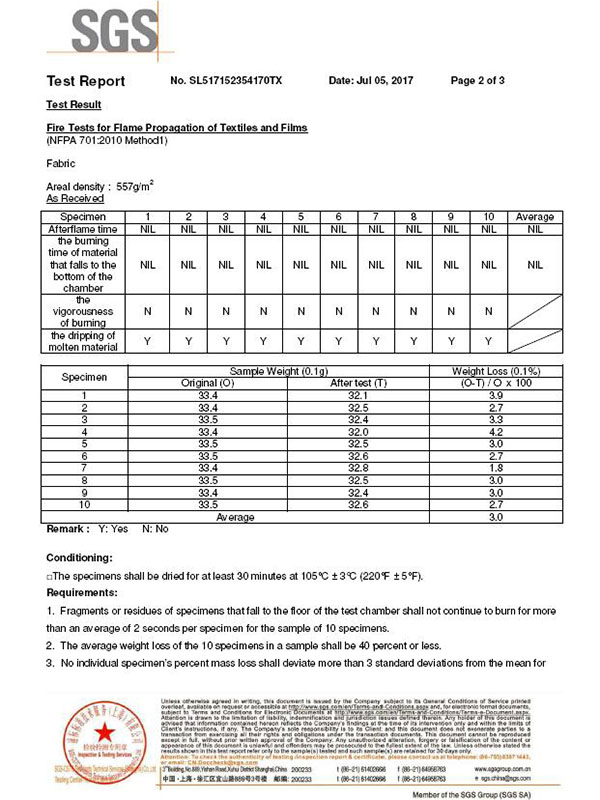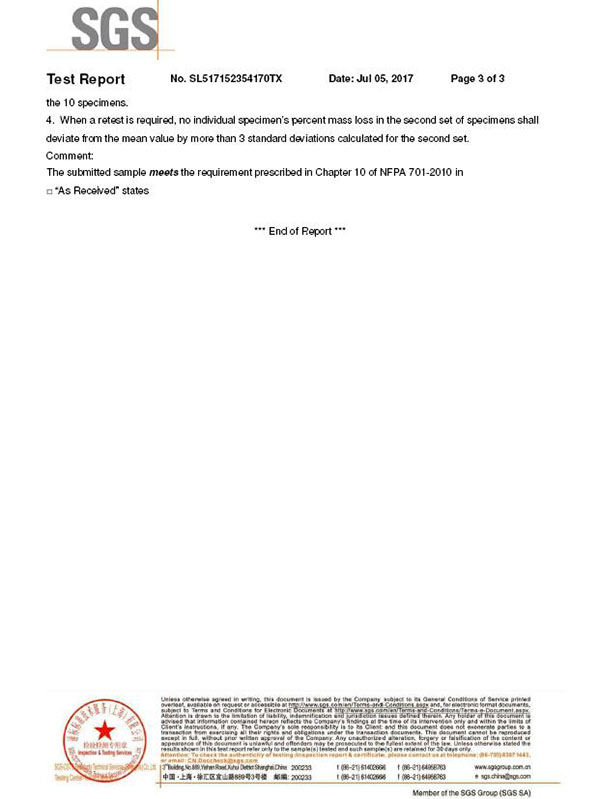 PACKING & SHIPPING
Length per roll: 30m/30 yards
Inner packing: hardboard tube and kraft paper/ poly bag
Outer packing: hardboard tube and tube cover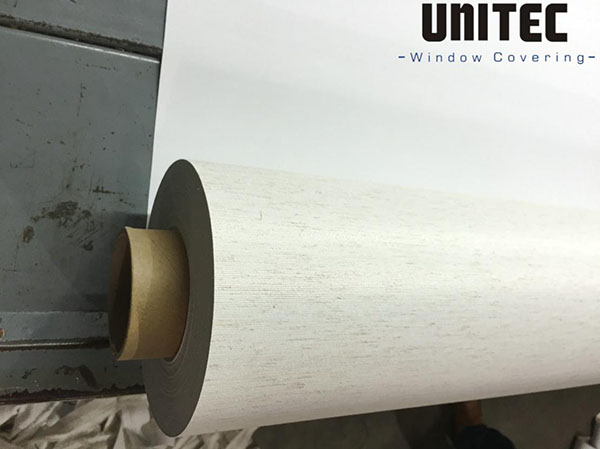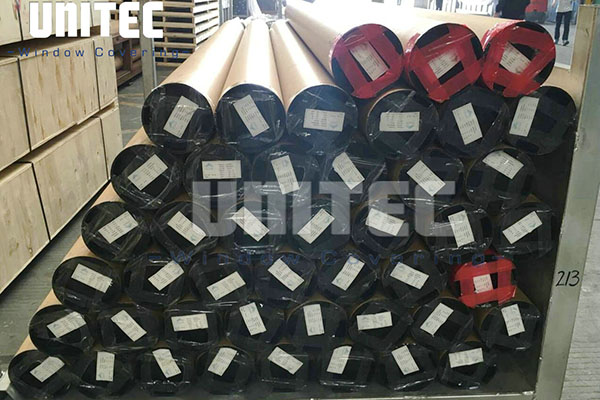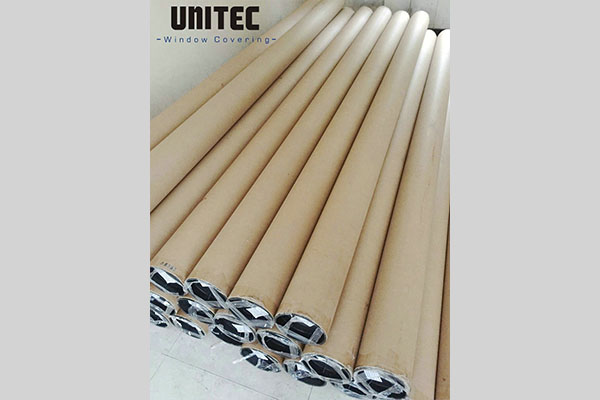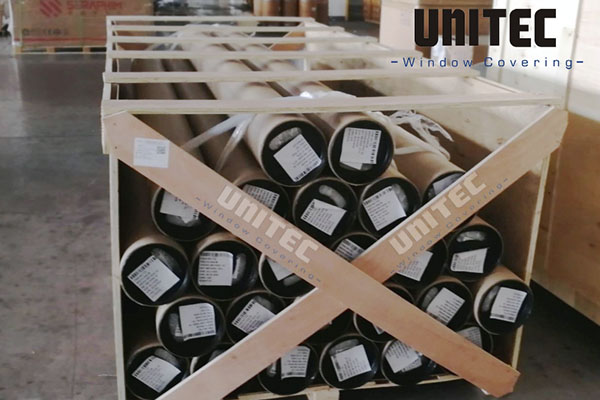 Container Loading: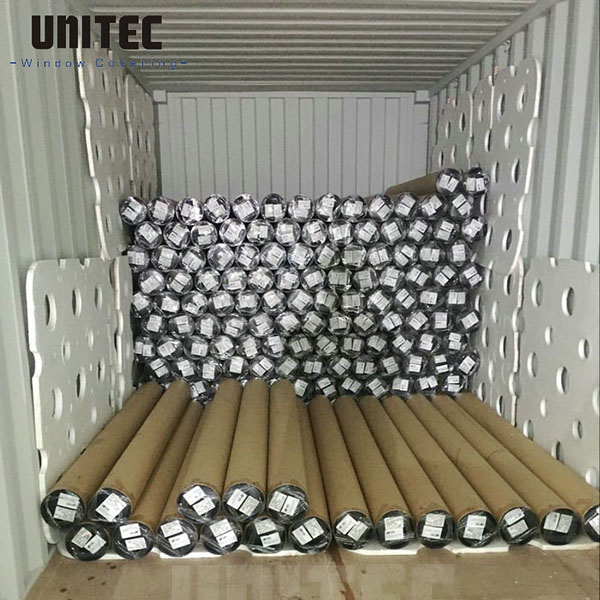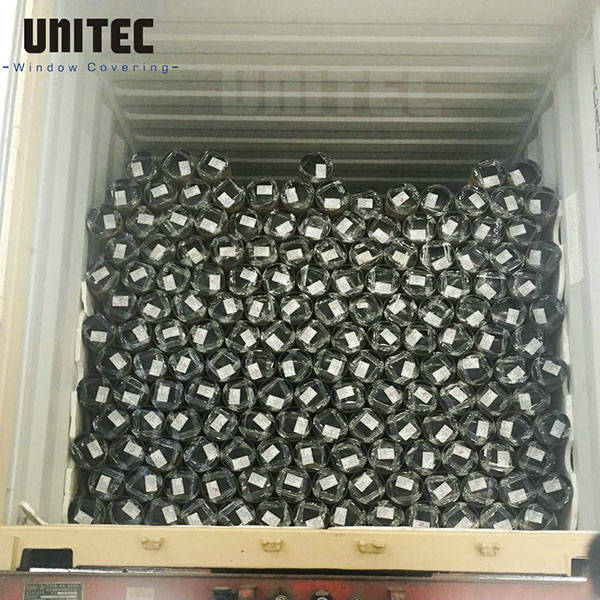 Shipping Method:
Air Shipment & Sea Shipment