MODERN ROOM BLINDS DECORATION
We continue with the blinds decoration trends for 2021 and this time we are going to talk about modern living room blinds decoration.
These types of rooms are just as cozy and warm as any other type of room. They create trends and designs and every day more people add them to their homes.
What elements define a modern living room?
First of all, there are a series of characteristics to define whether your living room is modern or not. For this, we have looked at the following:
According to the most influential decorators and interior designers in the sector, a modern living room blinds decoration tends to have neutral colors, smooth walls, and be practical and functional, using simple furniture in dark tones. It could be said that it was born from the fusion between minimalist, Nordic and Japanese panel styles.
In this way, they give an air of space and order to the home. Without neglecting the decoration of the furniture and accessories: The rugs, cushions or tablecloths, often use natural materials such as wool, cotton, or linen, they give warmth to space.
In this case, do not neglect the windows, in Manufacturer of fabric for blinds decoration UNITEC, you will have a collection of modern curtains and blinds for all kinds of corners.
Blinds Decoration specially designed in natural tones has 57 different shades, in addition, its fabric is thermal, which makes it the perfect fabric for winter.
DECORATIVE CURTAINS ZEUS ROLLER BLINDS DECORATION FABRICS UNITEC
If instead of a curtain you prefer to use a blind, in the online store you will find quality, inexpensive and versatile blinds decoration to turn your living room into a modern and comfortable place.
Blinds Decoration for living room
Using an all-white design concept is perfect for a clean, minimal look that lets the outside shine through. However, a white rolling pin doesn't have to be plain and basic, although that option works too.
Consider texture or a tone-on-tone pattern to add detail and interest to this minimal statement. Our options of handcrafted UNITEC textile blinds decoration will ensure a perfect finish.
For energy efficiency, blinds should be installed as close to the window or glass as possible. There are different types of fabrics for roller blinds: translucent, screen, and opaque blinds decoration.
In the following links, we give you ideas about the new roller blinds fabrics collection made by UNITEC.
The new roller blinds collection
Another characteristic of modernist interior design is the use of materials such as metal, wood or glass. They are resistant and highly durable pieces. They work in large and small spaces.
Japanese panel blinds for modern living rooms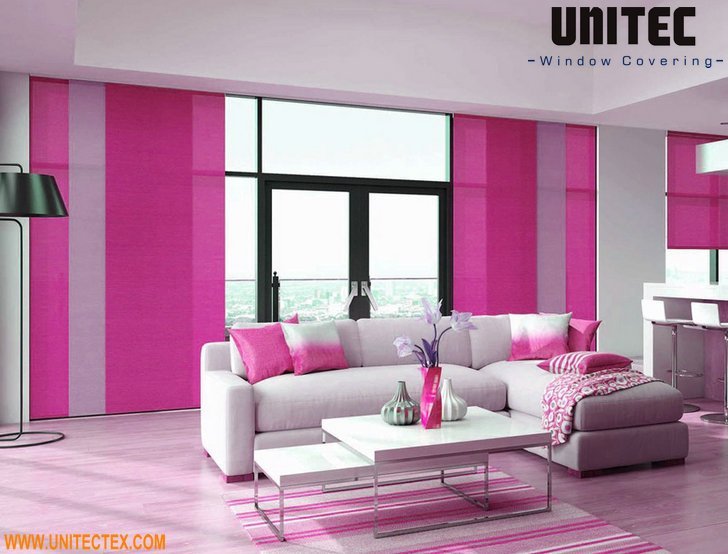 The Japanese panel blinds are gaining adherents over time. They are a solution and option to the traditional curtain to dress windows. Due to its great ability to cover large windows or sliding windows, so, Japanese panel blinds are very comfortable in everyday life and bring a modern style to home blinds decoration.
Among the many types of fabrics for roller blinds that exist for the manufacture of this product, we highlight the screen fabric for its wide advantages.
Japanese panel blinds decoration is very versatile and suitable for covering large windows and for small windows as a room divider. One of its great functions.
You can buy them online on the roller blinds fabric manufacturer UNITEC website and have your budget tailored instantly.
You can choose between more fabric for blinds decoration. Either of the two options will not disappoint you and if you buy now you get a 25% discount on all the articles on the web.
The Japanese panel fabric collection Venus collection allows you the possibility of combining two different styles.
japanese panel venus roller blinds fabrics manufacturer UNITEC
And remember, buying custom made curtains and blinds online is the best option to have your curtains at the best price and easily and quickly.
Get a style and a defined personality in your home blinds decoration with roller blinds fabrics manufacturer UNITEC.