Roller Shade Brackets Clutch is an incredible option to decorate your home. But they are not only a decoration resource, they also have their importance when it comes to the operation of a house. Generally, curtains and/or blinds are necessary to totally or partially prevent the visibility of outside light.
In our product collection, you will find the largest variety of roller blind accessories, Roller Shade Brackets Clutch on the market, with the best prices and a great variety of styles and colors.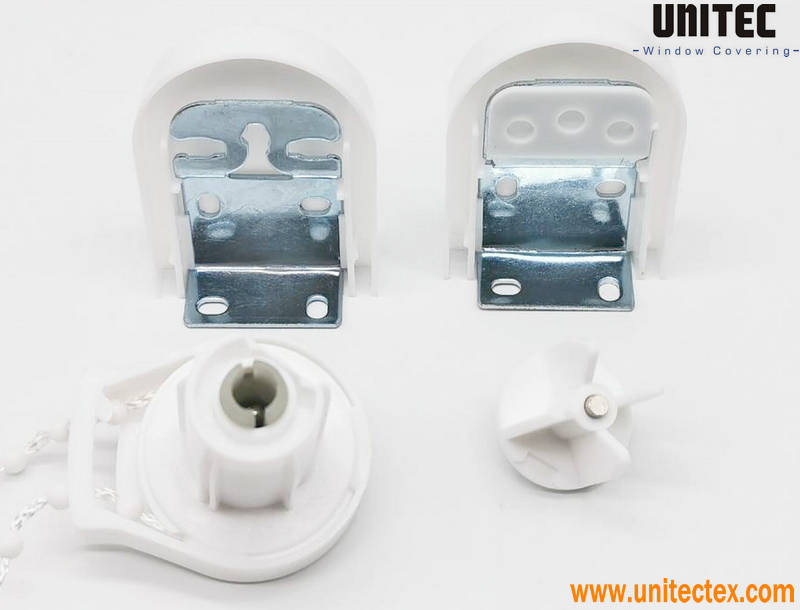 As we all know, Roller Shade Brackets Clutch is an important part of roller blinds. At the same time, it will also affect the beauty of roller shades and interior decoration. Its size is determined by the diameter of the headrail of the roller shades. Therefore, UNITEC, as a one-stop window decoration product manufacturer, supplies roller shade brackets clutches and accessories of all sizes. For example, 25mm, 28mm, 32mm, 38mm, 45mm, and so on.
How to install Roller Shade Brackets Clutch?
The Roller Shade Brackets Clutch 25mm for roller blinds, allow you to renew the roller system of your blinds, you must install them to the ceiling or wall and insert the tube of your blind.
This Roller Shade Brackets Clutch is for 25mm headrail of roller blinds. The color of the cover and chain of this Roller Shade Brackets Clutch can be customized.
Remember that this Roller Shade Brackets Clutch 25mm is compatible with roller blinds that have widths from 80 cm to 180 cm. If your roller blinds are of large width, you should consult the support also available at UNITEC for this type of roller blinds
What are the features of this Roller Shade Brackets Clutch?
Made of high-quality materials, with great strength and long durability.
The brackets and screws can be painted to match your wall decor.
Fixing kit for standard blinds with a 25 mm diameter tube.
Brackets can be attached to the top, side, or face.
The total length of the bead chain is approx. 2 meters.
Fixing kit for roller blinds with tube + 2 m bead chain
What price range do they usually have?
As you know, the cost of roller blind accessories has to do with many issues. You can find cheaper products and others at a higher price. In the end that will have to do with the amount, you can afford to allocate. We promise that at UNITEC Textile Decoration we offer the cheapest prices on the internet.
How to wash your Roller Shade Brackets Clutch?
Many people believe that curtains never get dirty. However, although they always remain still, as the years go by they end up accumulating a lot of dust. For this fact, we recommend cleaning them once or twice a year. We are going to give you some suggestions.
If you want to use the washing machine, the most important thing you should know is to use the program for delicates. The temperature of the water must be rather cold. Always less than 44º. This will prevent it from shrinking. On the other hand, the detergent you choose tries not to be too strong.
Is it worth taking them to a specialist?
If you are not very confident in your ability to clean roller blind accessories, the best thing to do is take them to a professional. Take care of those beauties!