What kind of zebra blinds is "Waterproof, Fire-retardant, Anti-mildew, and Anti-formaldehyde"?
Zebra blinds, as its name suggests, is named after the zebras, which are composed of two strips of different translucent fabrics. The market is also called zebra curtain, rainbow curtain, dimming roller blind, double roller blind, rainbow curtain, day and night curtains, day and night blinds, etc., is a characteristic sunshade product widely used in office and home.
The zebra blinds not only combines the advantages of cloth and yarn but also integrates functions such as roller blinds and Venetian blinds in the form. The sun shading forms are rich and varied, which can meet the needs of many users.
01: Soft light zebra blinds fabric
When the fabric and fabric, the yarn and the yarn correspond to each other, the light is softer, which reduces the direct light to a certain extent, but does not affect the line of sight.
02: Completely blackout zebra blinds fabric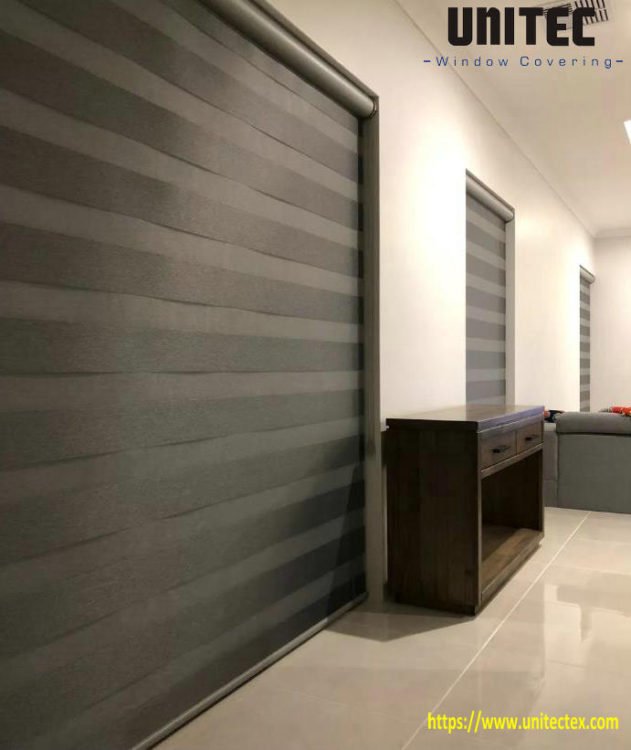 When the zebra curtain and the curtain are staggered from each other, the light is completely blocked, thereby achieving the purpose of closing the light and the field of view.
03: Open state rainbow blinds
The advantages of the zebra curtain are obvious, but its production process requires very different techniques. On the surface, the zebra curtain is simply a simple two-woven fabric, but in fact, because of the difference in craftsmanship, the appearance and function are very different.
At present, the zebra curtains on the market can be divided into plain, print, jacquard and embroidery according to different production processes.
Plain color day and night blinds
It is the most common and simplest type. There is no pattern, which brings different decorative effects through different colors.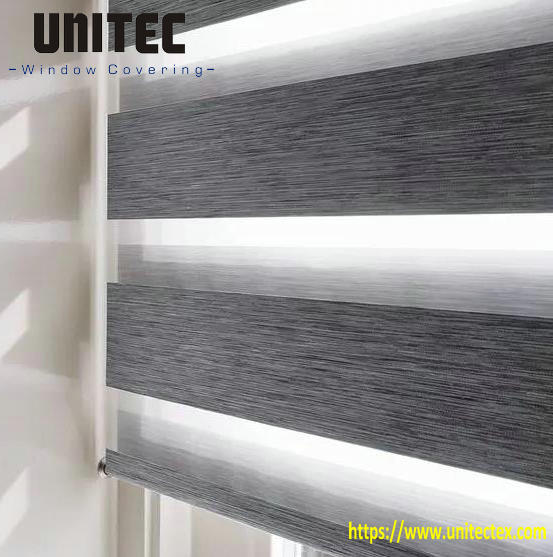 Printing day and night blinds
By adding a new color and pattern to the base fabric by printing on plain fabric, the zebra blinds fabric is delicate and rich. This product is more commercially available but relatively less innovative.
Jacquard day and night blinds
The yarn is woven into a variety of jacquard zebra blinds fabrics by a jacquard loom. The structure of the weave has a fine change, the flower shape has a strong three-dimensional effect, and the use of the yarn material is rich and varied. Jacquard products have been hot in recent years and are used in various products.
Embroidered rainbow blinds
Through the rich changes of embroidery color lines of zebra blinds, various patterns or patterns can be vividly presented, with rich layers, strong three-dimensional sense, bright colors, and outstanding effects. It is currently a popular product in the domestic market.
In addition to the obvious difference in appearance, functional fabrics are becoming a new trend as people's demands for quality of life improve. UNITEC Textile Decoration Co., Ltd introduces functional fabrics, leading the fashion and innovation of zebra blinds.
Five anti-function zebra curtain
Innovated from the main material, using polymer composite materials, with strong five-proof function zebra blinds – waterproof, fireproof, sunscreen, mildewproof, formaldehyde-proof, no harmful substances, long-term drying, no discoloration, long service life, etc. A representative of high-quality functional fabrics.
Waterproof: PVC composite molecular coating, strong hydrophobicity. Suitable for use in damp environments such as bathrooms and kitchens;
Fire Retardant: zebra blinds fabric raw silk in the coating process, the addition of imported fireproof materials, forming an effective protective layer, so that the yarn achieves effective flame retardant effect;
Sunscreen: the use of German BASF and the United States imported toner, good anti-oxidation performance, high UV resistance, and the product are not easy to fade. Suitable for long-term sunlight such as balconies;
Anti-mildew: aseptic material and process treatment, the implementation of aseptic processing in all aspects, does not provide a bacterial growth environment, bacteria can not breed, has a permanent antibacterial and anti-mildew effect on harmful bacteria. rainbow curtain Applicable to hospitals, home kitchens, bathrooms and other environments with high hygiene requirements;
Anti-formaldehyde: environmentally friendly zebra blinds materials, one-time through the United States GREENGUARD, EU OEKO-TEX 100 textile ecological testing, Switzerland SGS certification ecological testing. Suitable for hospitals, schools, etc.