3 types of roller shades and their main uses
The different types of roller shades have an innovative and elegant design, attributes that undoubtedly differentiate them from the rest of the traditional types of roller blinds, sunscreen roller shades, blackout roller shades, and duo roller blinds. Its great resistance to climatic agents and its technology positioned it as one of the preferred window shades for decoration.
While it is true that it is a product used mainly in offices and shops, its presence has begun to spread in homes, meeting the expectations of functionality and practicality.
If you want to make them part of your decoration, then we present the types of roller blinds most recommended for their design and use:
3 Types of roller shades
1. Black Out roller shades
2. Sunscreen roller shades
3. Duo roller blinds
Black Out roller shades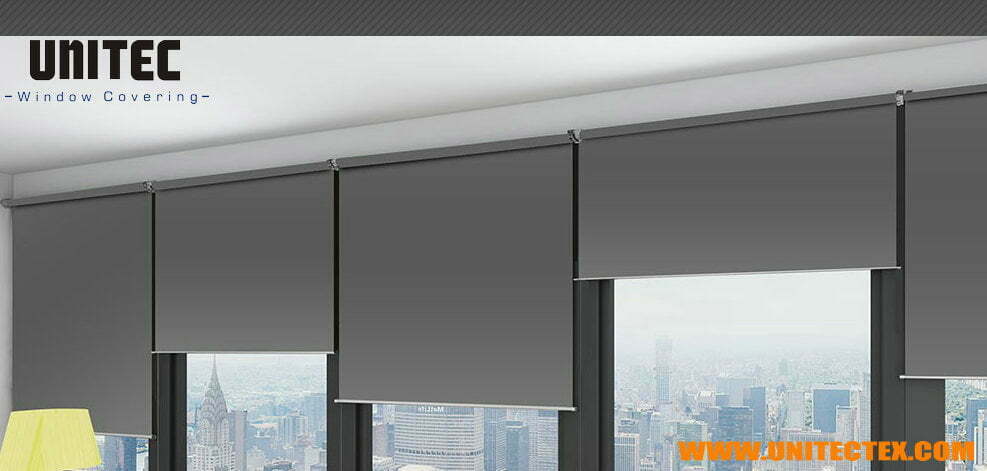 With these types of roller shades, blackout roller shades, you can get an almost total darkening of any room, because one of its layers is covered with polyurethane. This feature prevents high temperatures and solar rays from affecting the environment of the spaces, so it is a piece of great energy savings. Its materials are very resistant, the bearing accessories are firm and designed to experience a long service life, so they also require little maintenance.
Another very important benefit is that blackout roller shades help keep the furniture in perfect condition, avoiding the discoloration caused by prolonged exposure to the sun. It is ideal to incorporate in those spaces destined to reproduce audiovisual materials, since through its use better sensations are achieved; but the types of roller shades are also good for places where total privacy is required like meeting rooms.
Sunscreen roller shades
This type of roller shades fabric are formed by PVC-coated polyester threads, material that makes them resistant to external agents and extends their durability. It has features and a design designed to allow the entry of sunlight indirectly and help preserve the ideal temperature inside. In addition, it promotes adequate natural ventilation thanks to its porosity, and for cleaning it only requires warm water and some non-abrasive soap.
If the space to decorate is of small dimensions, the Sunscreen curtains will help you to maintain the light entry without having to raise them, and you will keep the thermal temperature inside the space. They are also ideal for kitchens and bathrooms, since they are resistant to moisture.
Duo Roller Blinds
These are types of roller shades that have two rolls that allow to obtain conditions of great luminosity and a dark environment instantly. The characteristics of its fabric make it possible for solar radiation to be filtered in a high percentage and its impact on the environment is indirect.
The most relevant feature is that it allows you to manually regulate the entry of natural light and privacy, and that with its use you can achieve almost complete obscuration. This function is very similar to that offered by the blackout roller shades, although with this type of curtain we can have both environments; It also allows temperature control.
The types of roller blinds Black Out and types of roller shades, Sunscreen and Duo have the special feature that they can be used in old, classic and modern environments with excellent performance. Its weight is ideal, its colors varied and its dimensions perfectly adaptable according to need.