Types of curtains to frame the windows of your home
They say that windows are the soul of a home, so it is important to know how to choose between the types of curtains to treat the windows. There are those who consider the curtains as the eyebrows of the eyes that are the windows. This makes them of equal importance since depending on your choice between the different types of curtains it can shape a room.
In the market, there are different types of curtains, which you can buy per panel or in pairs. They can be installed, sewn, and hung in a variety of ways for different effects in the room. With different materials, shapes, patterns, and colors, without a doubt, they set the tone and style of a room.
To help you a little in this world of curtains, we bring you a small guide to the types of curtains, so that you can choose according to your style and preference. So keep reading so that you know the types of curtains and how to choose the best one for your home.
Functions of the curtains
Usually, when decorating a room, curtains are the last thing you think of. And sometimes it is the hardest to choose. A room without curtains makes it look bare and unfinished, even a bit cold, and even without privacy. This is one of the main functions of the curtains, privacy. It really is a very uncomfortable thing to change clothes without the freedom of being able to be walking around your bedroom.
Another advantage or function of curtains, especially in a bedroom, is to block a bit of light from first thing in the morning or the street lights on at night. For most people, choosing the right shades can be a difficult job. But it is even more complicated when you do not think about them until you already have the room or bedroom decorating.
Choose between the types of curtains according to your decoration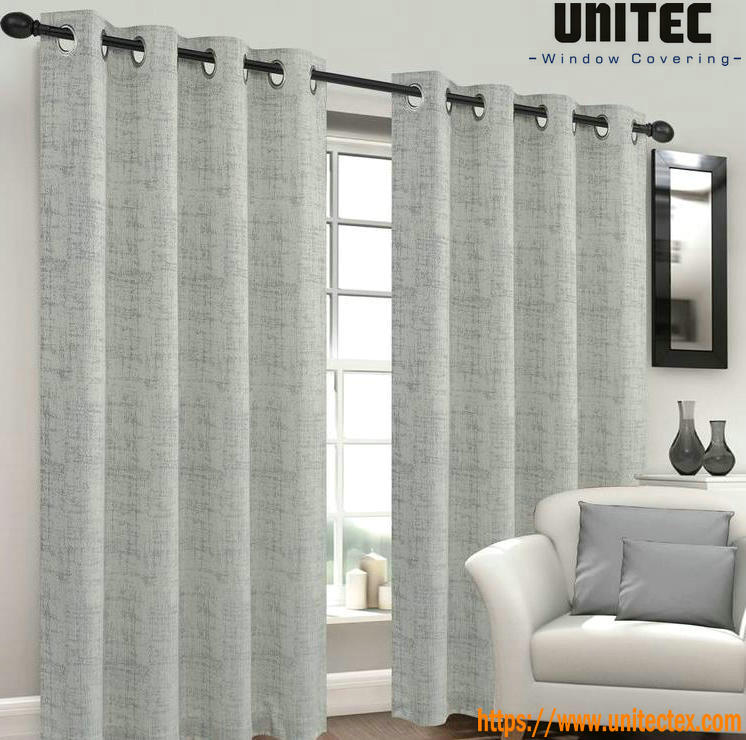 It is true that there are many types of curtains, with different styles, lengths, pleats, rods, fabrics, pelmets, and valances. But once you get to know a little it will become a little easier. That is why we want to help you with this little guide and pictures with cute inspiring ideas.
Well, curtains add length to a room, they frame a window. And when complementary fabrics are used for other upholstery or cushions, curtains can be the finishing touch to unify a room. To start explaining a bit about curtains, let's talk about headline types.
It is known as a header to the top of the curtains. If you look at them, you will notice that some are pinched at the top. While others are chained across the bar. Header style is the term used to describe the way the top of the curtain attaches to the poles or tracks.
The rod pocket, grommet, and tab top are among the most popular ways to hang curtains. Even these various types of headings create different types of pleats, thus defining the level of fullness, shape, and volume of the curtains. curtains.
Types of Curtains – Rod Pocket Header
The most basic header is the rod pocket style or also known as pole pocket, it is the most basic header or curtain type. It is so named because the curtain fabric turns on itself to create a pocket through which the pole or rod that will hold the curtain can enter.
Simply put, the curtain rod fits through the pocket or tunnel at the top of the curtain fabric, allowing it to be pulled together slightly. Without a doubt, it is very basic and although it is decorative, it is not really functional. This is due to the difficulty of sliding the curtain along the pole or pole when it is desired to open or close.
Types of curtains – Curtain rings
Opting to wear curtain rings is an equally popular option. The curtains are attached to the rings with special small curtain hooks, and those rings slide over the rod very easily and without any difficulty. This is a very practical and durable solution. And the advantage is that you can remove the curtains to wash them or replace them with others very comfortably.
Types of curtains – Buttonhole
Eyelet curtains can only be used with curtain poles. This type of curtains provides a very contemporary feel, trained almost industrially. Curtains with grommet headings certainly provide large, even, and smooth pleats.
Types of Curtains – Tab Top
Tab tops are curtains with a top tab, made of the same or contrasting fabric. These are modern, informal curtains that are preferable to be used with curtain poles. Actually, with this type of curtains, you can complete your decoration.
However, like pocket curtains, they are not functional. Since moving them when they want to open or close it is very uncomfortable. It is worth mentioning that due to the tabs or tabs on the header, the post is very visible. So it is important to invest in attractive and quality posts and finishes.
Types of curtains – Tie Top
The head of this type of curtain is tapes attached to the curtain which are attached to the curtain rod or pole by making small knots. It is a very informal, relaxed style and perfect for rustic decoration. Usually, when used in the bedroom, it is made sure to use bedding or other light fabrics.
Types of curtains – Pleated pencil
It is a contemporary and very elegant style. The pencil pleat or header is based on long, tight pleats at the top of the curtain. The name of this style is due to the neat and firm pleats at the top of the curtain resembling the size of a pencil. These types of curtains are hung with special curtain hooks, which are attached to the back of the curtains, so they cannot be seen, and are hooked on a rod system.
Curtain Types – Cup Pleat
The cup pleat is a more traditional and formal style for hanging curtains. They look great in a home with Victorian, Georgian decor, and a high ceiling. The top or head of the curtain has a cylindrical sleeve, which resembles a wine glass. These curtains are generally used more in large or traditional rooms and bedrooms with high ceilings.
Types of curtains – Pleated pinch
This style of curtains is based on a header with groups of three folds that are displayed at the top of the curtain in a simple way. The pleats are held together at the base of the group by a stitch and allow for easy unfolding.
This is another of the types of curtains with an elegant and at the same time simple style. It should be mentioned that this style is also very versatile, as it can be hung on both curtain rails and poles. Sometimes it is also combined with fabric blinds, which look great.
Types of curtains – Pleated pleat
This style of pleated curtain is a mix between a pinch and a pencil pleat. To create a curtain in this style, simply sew a pleated ribbon to the back of the top edge of the curtain, then the drawstrings are pulled on the ribbon to achieve the desired level of pleating.
Types of curtains – French or pleated to measure
The curtains with this style of French pleats are composed in having groups of triple pleats. Which are evenly placed throughout the curtains to create a formal look. These curtains stack properly on either side of the window and are perfect for a formal dining room or living room.
Types of curtains – Box pleats
This box pleat style is simply made up of individual pleats of fabric, creating straight pleats throughout the curtain.
Systems for hanging curtains
Curtain track
A very discreet and elegant way to hang a curtain is with a track. This system is not visible to people. They are usually laid in double or triple layers, combining blackout curtains with sheers or gauze in the rooms. The quiet, efficient, and smooth operation of curtain track systems makes them a very popular choice.
This type of hanging system is perfect for curved windows, where the shades need to move smoothly around a corner. The curtain track system uses step rings, which allow the curtains to open fully and without difficulty.
Curtain rod or pole
If curtain tracks are popular, curtain rods or posts are much more popular. A curtain pole can always be seen in home windows unless it is covered with a valance or pelmet. This system for hanging curtains can be found in different sizes and can be made of wood or metal.
Curtain poles are usually covered at each end with a cap, which is a decorative plug attached to the ends to prevent the curtain from sliding off. It is important to remember that curtains must frame the windows, so as a general rule we must ensure that we add an additional 10 percent of rebar on each side.
Although curtains with heavier fabrics will require a little more. When the curtains are open, the space taken up by the bundled fabric is called the "pile." It is recommended that the pile should not cover the window too much when the curtains are opened.
Pelmets and borders
Pelmets and valances are a kind of frame, which are placed on top of a window, used to hide curtain accessories and in the same way, provide a finished look to the upper part of the window and the curtain. In short, it serves to camouflage the track or pole.
In the same way, it works to create an illusion of height and change the proportion of the window. At the same time, they provide a flawless finish by hiding both the posts or tracks and other fixings. Pelmets are generally flat and box-shaped.
But they can be molded to add some decorative details for a more personalized finish. They are usually made of chipboard and covered with decorative cloth. Although they can also be made of wood, creating a much more contemporary edge. As well as hiding tracks and curtain poles, they also work great with Roman blinds.
As for the borders, they are made for the same functions as the pelmets, to hide the system for hanging the curtains. With the difference that they are a little softer in appearance and with pleated headers. A valance is usually smooth and draped. Whereas a pelmet is firm, structured, and always upholstered.
Fabric, lining and length of curtains
Of course, there are different types of curtains fabrics, from thick-lined bedroom curtains to sheer voile fabrics. Types of curtain fabrics that hang well include silk, synthetic silk, velvet, and linen.
Of course, there are also all the different colors and shades to choose from. However, most interior designers generally choose neutral tones. This is because they are less likely to go out of style.
It is always a good idea to have curtains lined to last a little longer. Since the texture of the fabric can be lost due to the sun. A lining also helps to block the passage of light in the case of a bedroom. Regarding the length or length of the curtains, today the modern idea is that the curtains are flush with the floor. So they must belong.
---
---
Related Posts: