Sunscreen roller blind with 5% opening URS40 series
URS40 series sunscreen roller blind fabrics are characterized by maximizing the incidence of light without sacrificing privacy, so that the appearance can be observed gently and the two types of ultraviolet rays can be protected. Sunscreen roller blind with 5% opening URS4010 is made of 30% Polyester and 70% PVC, and the opening ratio is 5%. Therefore, this fabric is usually used for indoor sunscreen roller blinds, translucent sunscreen roller blinds, and can also be used for home sunscreen blinds, hotel sunscreen roller blinds and office sunscreen roller blinds
The feature of this Sunscreen roller blind with 5% opening URS4010 is to maximize the entry of light without sacrificing privacy, so that the appearance can be softly observed and the two types of ultraviolet rays can be protected. Made of 30% Polyester, 70% PVC.
Sunscreen roller blind with 5% opening URS4010 is now used more and more in some hot areas. It is not only reasonably priced and cheaper than traditional shutters, but also has very high functionality. This is a very cost-effective roller blind product. In addition, sunscreen roller blinds not only provide you with the privacy you need, but also allow you to bathe in natural light. No light source is more comfortable than natural light. Shading roller blinds determine the size of the light entering the house according to different aperture ratios, and different aperture ratios have different effects. For example, this hot-selling beige sunscreen roller blind uses a 5% aperture ratio, which can block most of the harsh sunlight, let comfortable light enter your house, and protect your eyes and the life of your furniture. There are: 1%, 3%, 5%, 10% for your choice.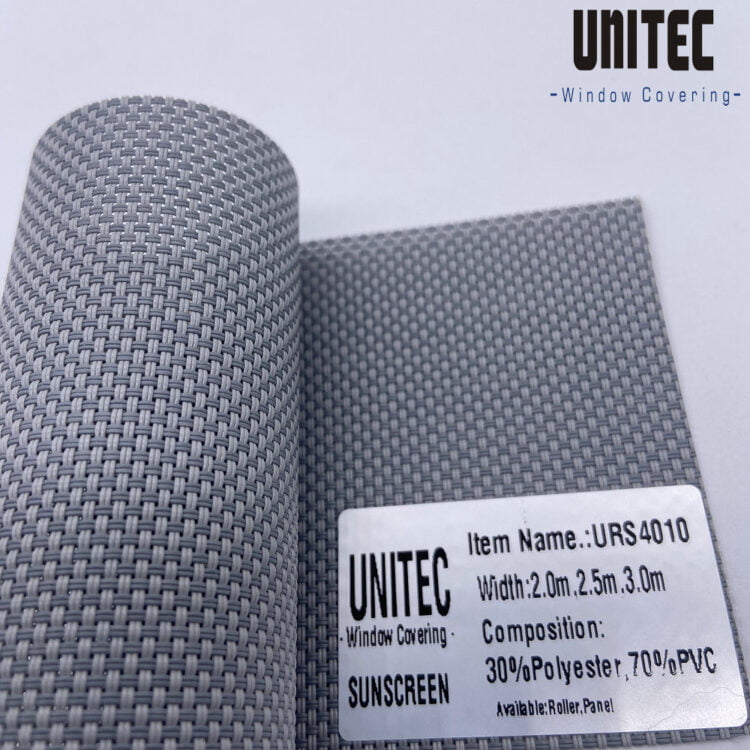 Sunscreen roller blind with 5% opening URS4010 applied fabric:
Sunscreen roller blind with 5% opening URS4010 is a very functional shutter, once collected, it will only take up very little space. Since the diameter and mechanism of our tubes are different, they can also be installed on large windows. Comfortable and simple system. The most commonly used screen fabric is its thermal function, which can improve the energy efficiency of our home or office.
We can customize your URS40 series to have a fireproof function. We should also prevent the blinds from becoming a source of fire, and comply with the safety regulations required by the European Union, which apply to installations in schools, restaurants, kitchens, offices, etc. outside the house. Roller blinds, in addition to being made of wire mesh fabric, we also use opaque and translucent fabrics.
The opening degree of UNITEC's sunscreen roller blinds is about 1% to 15%, especially the Sunscreen roller blind with 5% opening URS4010 has an opening degree of 5%. You can choose the opening degree to adjust the required amount of light. For example, you can design The sun-proof roller blinds used for the windows on the sun-facing side of the building are designed to be less open, while the dark side of the building is designed to be less. Be more open to allow more natural light to enter the room.
What should we do if the product fails the test?
1 Arrange for re-production (according to the test results, focus on quality inspection in the production process)
2 Fabrics that fail the test will be converted to domestic sales and sold to finished products factories.
What is the packaging standard of Sunscreen roller blind with 5% opening URS4010?
The packaging standard is 30M per roll. The inner packaging is an inner tube and an outer tube with a plastic bag. The diameter of the outer tube is 18 cm. A 20-foot container can hold 260 rolls, and a 40-foot container can hold 580 rolls.
| | |
| --- | --- |
| Composition (TR ) | 30% Polyester,70% PVC |
| Width: | 2.5m,2.8m,3.0m |
| Openness Factor: | 5% |
| Light Fastness: | 5-6 (Blue Scale) Tested to ISO 105-B02:2014 |
| Nominal weight: | 554±5%gsm (TR) |
| Nominal thickness: | 0.70 mm (TR) |