Solar screen fabric manufacturer
Our company, UNITEC Textile Decoration Co., Ltd is a Blinds Fabrics Manufacturer and solar screen fabric manufacturer that specialized in producing a wide variety of roller blind fabric. With over 20 years of manufacturing experience, UNITEC offers hundreds of roller blind fabric, screen fabrics, zebra blinds fabrics of Blinds, Shades & Shutters, and pearl soft backlit fabrics.
Currently, dressing windows with solar screen fabric are presented as the art of good taste and elegance. Although its use is more related to work offices and coworking, many people enjoy its benefits in the conformity of their home.
We can't deny it: Sunscreen shades and blinds are currently at the forefront of decorative trends, and their benefits are in plain sight. Anyway, As a Blinds Fabrics Manufacturer and solar screen fabric manufacturer, we are going to introduce our solar screen blinds fabric to you.
We have basket weave solar screen blinds fabric in different openness factor, such as 1%, 3%, 5%, 10% and 14%.
Below are the links:
SUNSCREEN BLINDS FABRIC 3% OPENNESS
Solar screen fabric manufacturer 10% openness, solar shades fabric 10% openness
The pros and cons of solar screen blinds fabric.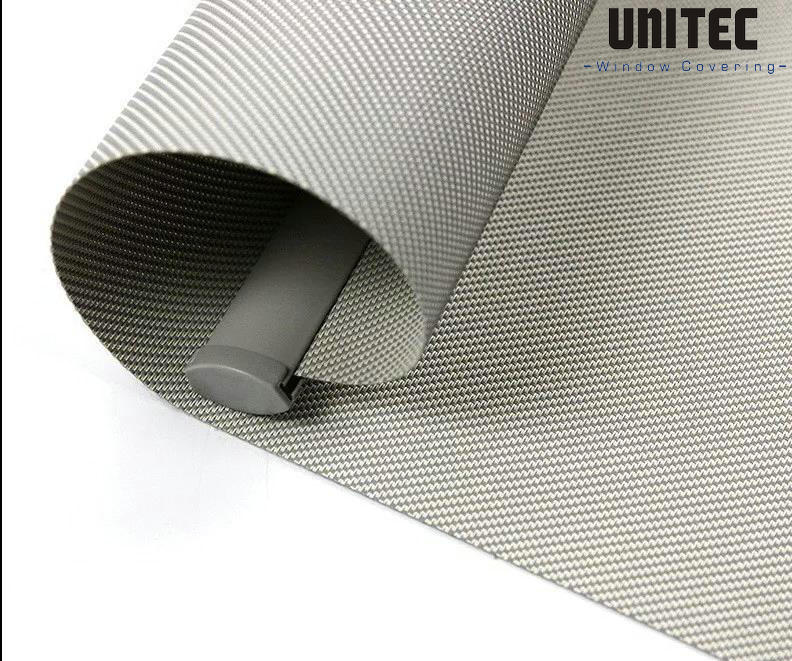 Next, we will delve into the following topics:
Solar Control
UV protection
Transparency and translucency
Visual preservation
Care
SOLAR CONTROL
Sunscreen roller blinds are characterized by providing meticulous control of exterior light. Thanks to their microfiber and PVC materials, they allow you to enjoy reduced natural light without the need to use electricity.
On the other hand, this feature of the Sunscreen is presented as a disadvantage if the environment requires absolute darkness, as in the case of a bedroom where you sleep.
UV PROTECTION
The control of ultraviolet rays carried out by sunscreen curtains implies greater care, and not only for humans, but for the objects that are around. This means that they increase the life span of furniture or decorative elements.
On the contrary, this type of curtains is not always used in environments that can enjoy this benefit.
TRANSPARENCY AND TRANSLUCENCY
One of the main characteristics that makes them one of the most requested fabrics on the market is that they are transparent and translucent. Continuing with the previous topics, it allows to control the entry of natural light and, above all, it allows to preserve the privacy of the space.
What yes, it is worth clarifying that at night the translucent characteristic makes it a disadvantage since the visual of the exterior can be a fact.
CONSERVATION OF THE VISUAL SOLAR SCREEN FABRIC MANUFACTURER
The solar screen fabric has the benefit of being able to preserve the natural lighting of the spaces, while maintaining the view to the outside, preserving privacy (during the day).
This distinctive feature invites us to have much more harmonious and natural environments.
On the other hand, this peculiarity becomes a disadvantage at night, because the visual is from the outside in. For this reason, it is recommended to have double roller blinds, which will allow you to enjoy the benefits of 2 fabrics: Sunscreen and Black Out.