Take advantage of the entrance of light without losing views of the exterior with the screen roller blinds fabric of the manufacturer UNITEC
Screen roller blinds fabric is the technical and innovative option to dress the windows of our home, its properties make this fabric suitable for both the interior of the home and the outside, depending on the screen fabric model we choose.
Transparency: MEDIUM-HIGH the balance between protection and visibility to the outside. Fluid drive facilitates the raising and lowering of the blind.
One of the main characteristics of this screen roller blinds fabric is that it allows you to take full advantage of the light input, without losing the external view and protecting us from UV rays.
Its synthetic Polyester and PVC finish, facilitates cleaning and maintenance, and together with its fire-retardant classification, Screen roller blinds fabric is considered the excellence technical fabric.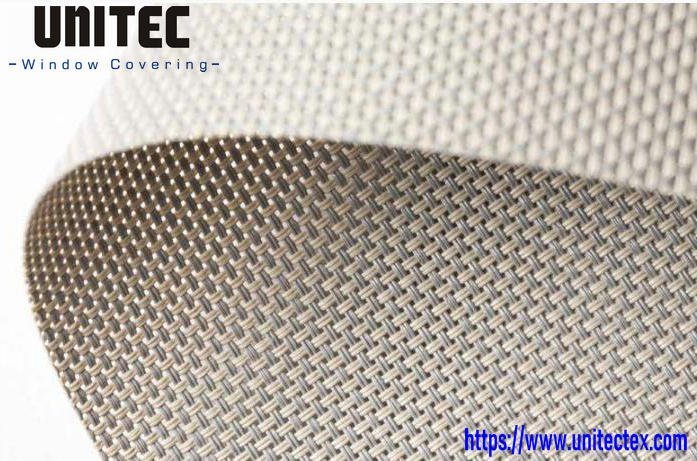 The openness of Screen Roller Blinds Fabrics
Screen 1%: Low visibility to the outside and low light input
Screen 3%: Medium visibility outwards and low light input
Screen fabric 5%: Medium-high visibility to the outside and medium-light input
Screen 10%: High visibility to the outside and high light input.
When we talk about openness we are referring to the amount of light that the Screen fabric lets through, we can find a screen with a 10% aperture that is the one that lets the most light through, up to 1% which is the most closed, or if we do not want any light to pass, we will choose the Opaque Screen.
OTHER MAIN CHARACTERISTICS OF SCREEN ROLLER BLINDS FABRIC
Flame retardant certified fabric.
Extra resistant metal supports.
Mechanism guarantee 3 years.
Child safety system.
CARE AND MAINTENANCE
Another of the great advantages of screen roller blinds fabric is that being a synthetic fabric made of Polyester and PVC, with a simple wipe or damp cloth, we can remove any type of stain or dirt.
UNITEC Textile Decoration is a branded manufacturer of screen roller blinds fabrics, blackout roller blinds fabrics, translucent roller blinds fabrics and zebra blinds fabrics in China since 2002.
UNITEC has passed the ISO9001: 2008 quality system and Abundant experience in the luxury market of Europe, America and Australia, and our blinds fabrics have been certified by the SGS, INTERTEK, Oeko-tex and so on, So you can rest assured about quality.
We provided the latest technology and equipment that allow us to offer our customers the best quality fabrics, Screen roller blinds fabric, UNITEC is a one-stop window blind fabrics solution provider for global customers.