Screen fabric properties
The Screen fabric properties that make this screen fabric suitable, both for the interior of the office and for the exterior, are multiple; We can see this type of fabric applied in awning or blinds format.
Most remarkable Screen fabric properties
One of the most remarkable Screen fabric properties of this fabric is that they allow controlling the entry of light depending on the degree of opening of the fabric that we have chosen, without losing visual transmission, this depends on the color of the fabric that is chosen, at the same time, as the fabric should protect us from UV rays during the day.
UNITEC Textile Decoration Co., Ltd is a leading manufacturer and supplier of roller sunscreen fabrics, blackout roller blinds fabric, light filtering roller blinds fabric, zebra blinds fabrics and zipscreen fabric since 2002. They can produce different openness screen fabrics, such as 1% screen, 3% screen fabric, 5% sunscreen fabric, 10% solar screen fabric, Fiberglass screen fabric, Silverscreen fabric, and PVC Free screen fabric.
The quality guarantee time is 5 years.
The synthetic finish in POL and PVC of the screen fabric allows easy cleaning; therefore, maintenance is an easy and straightforward task; some fabrics have the characteristic that they are flame retardant; This factor is key when choosing it according to the need of the project.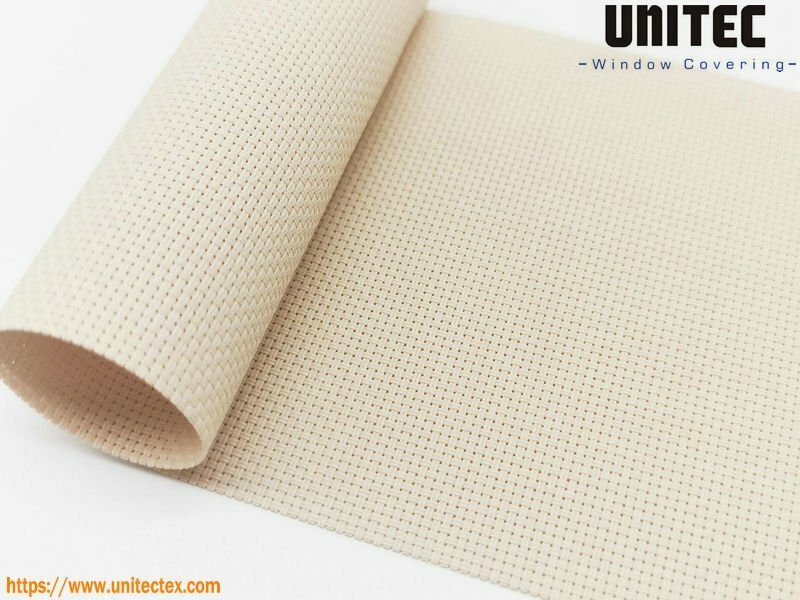 What does the opening of the sunscreen fabric depend on?
Another most important Screen fabric properties are the opening of the sunscreen fabric and UV Protect. The opening of the screen fabric will depend on several factors; for example, the visual transmission and UV protection that we want to have.
In fact, professionals will define the degree of opening as the percentage of the total surface of a fabric occupied by the same pore or hole in the fabric itself. The more difference there is within the weft of the fabric itself, the more light will pass through the blinds; at the same time that UV rays will also pass.
The opening and the thickness of the fabric are two factors that greatly influence the absorption of heat, and in fact, this is essential when calculating consumption, or wanting to make a reasonable and efficient consumption; Therefore, if we want to make efficient consumption of both air conditioning and heating, we must choose a good screen fabric to suit our needs and possibilities.
We recommend that in rooms where you get a lot of sunlight; Screen fabric installations would make more sense if such a consequence is desired. We also have to say that at the moment there is a much broader color palette in screen fabric, as we have pointed out before, maintenance is very simple; in fact, no type of solvent or abrasive substances can be used; Simply with a damp cloth and mild soap, the curtains will be more than shiny.