DETALLE DEL PRODUCTO
INSPECTION
Certification
Packing & ODM & OEM
Screen fabric for roller blinds and Sun screen fabric such as window shades are often used to provide Shielding from the Sun's rays and glare caused by those rays. In addition to providing Sun Screen performance, the sunscreen fabric shades must also typically be flame resistant (i.e. have FR performance), and have Sufficient stiffness to properly hang in the window or from the other structure where it is utilized (e.g. not cup or curl) and in many cases, withstand being rolled up and down by a shade mechanism.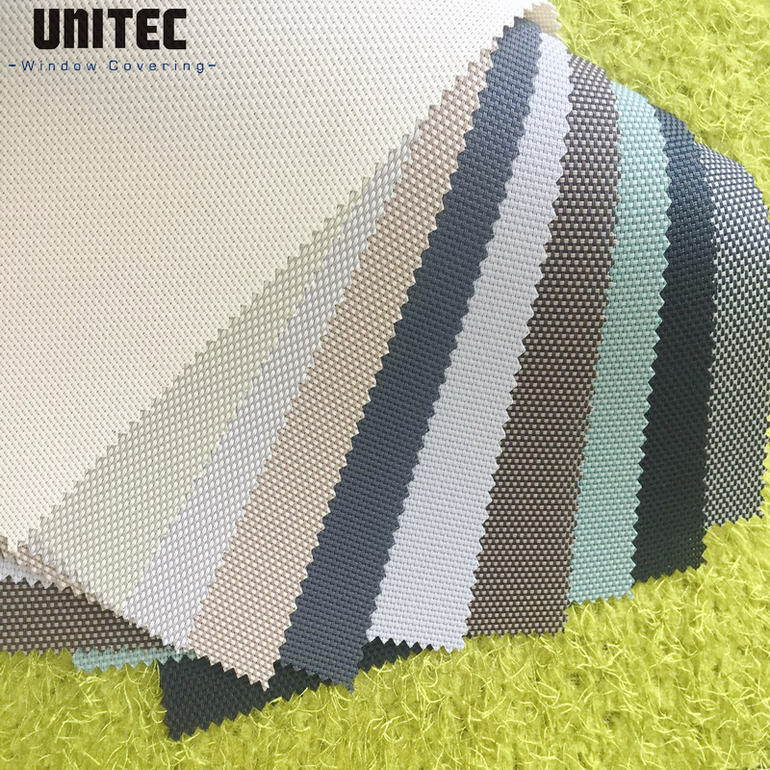 To achieve these objectives, Shade fabrics are generally made from fabrics that are woven from vinyl-coated fiberglass or polyester yarns, which are then calendered. While providing a level of Sun filtration, these prior Shade materials have been limited in terms of aesthetics. For one, because the vinyl coating is opaque, the color of the shades is determined by the color of the vinyl coating of the yarns, and thus the available color palette is typically limited. In addition, the fabric construction is limited to conventional open weave patterns. Furthermore, the vinyl coating must be sufficient to prevent the edges of the woven fabric from fraying.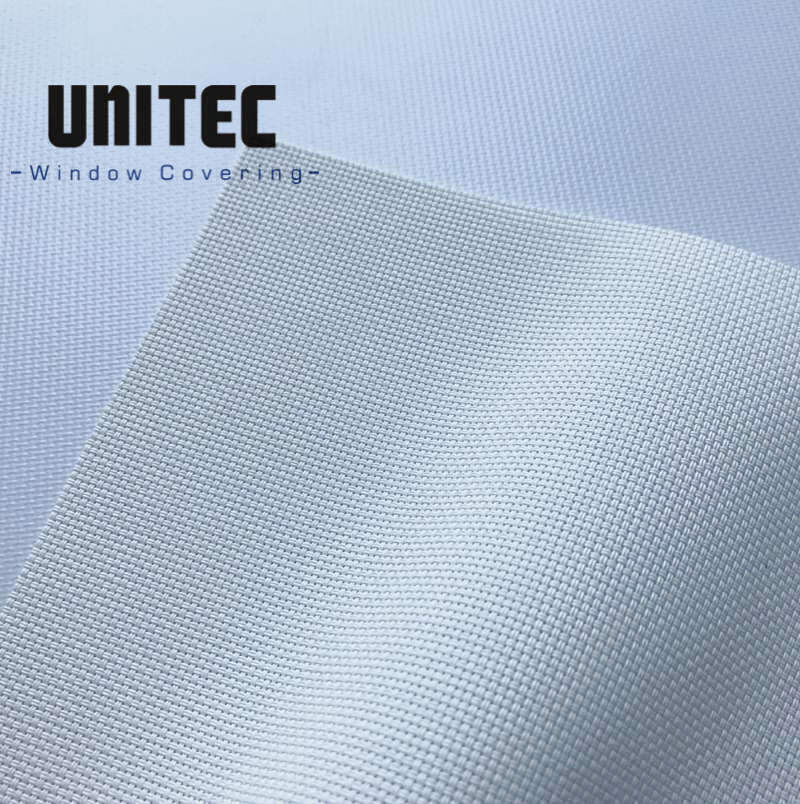 The sun screen fabrics of the invention have a knit base fabric which is preferably a warp knit construction, Such as a raschel or tricot knit. The sunscreen fabric is preferably at least a two bar construction, though it may be made from three bars, four bars, etc., depending on the complexity desired for the pattern.
The fabric is preferably constructed to have from about 1% to about 15% openness, Especially screen 5% (defined as the amount of open Space relative to the total fabric area.) As will be readily appreciated by those of ordinary skill in the art, the level of openness can be Selected to tailor the amount of light that it is desired to let pass through, the amount of Screening desired, etc. For example, Sunscreens designed to be used on windows on the Sun-facing Side of a building may be designed to be less open, while those for the Shady Side of a building may be designed to be more open, to enable more natural light to enter the room.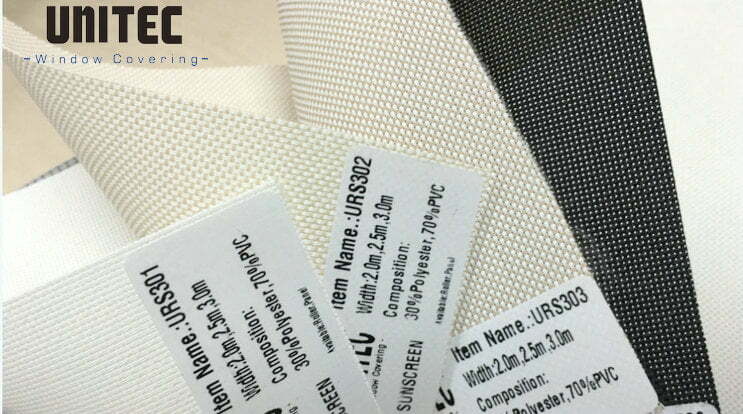 The main blinds fabrics of UNITEC Textile Decoration Co.,Ltd are as below:
1. Roller Blind Fabrics (Width:1.8M-3.0m,Translucent fabrics,blackout shades,room darkening shades,fire-retardant,Anti-microbial,water-proof )
2. Sunscreen Fabrics (Width:2.0m-3.0m,Polyester & PVC ,fiberglass & PVC and fiberglass & PVC blackout fabrics)
3. Zebra Blinds Fabrics, day and night blind fabric, double roller blinds fabric
INSPECTION
| | |
| --- | --- |
| 1. Quantity | ■Passed          □ Failed            □ N/A           □ Client's decision |
| 2. Packing | ■Passed          □ Failed            □ N/A           □ Client's decision |
| 3. Labeling | ■Passed          □ Failed            □ N/A           □ Client's decision |
| 3. Style, material, color, Artwork | ■Passed          □ Failed            □ N/A           □ Client's decision |
| 4. Workmanship | ■Passed          □ Failed            □ N/A           □ Client's decision |
| 5. Measurement, function | ■Passed          □ Failed            □ N/A           □ Client's decision |
| 6. Test/ Test report |     ■Passed          □ Failed            □ N/A           □ Client's decision |
| 7. Cleanliness on site |     ■Passed          □ Failed            □ N/A           □ Client's decision |
| 8. Child safety issues |     ■Passed          □ Failed            □N/A            □ Client's decision |
|   |   |
Certification
Screen Fabric Fire-Retardant Certification NFPA 701

UV blocking certification