How to choose modern curtains?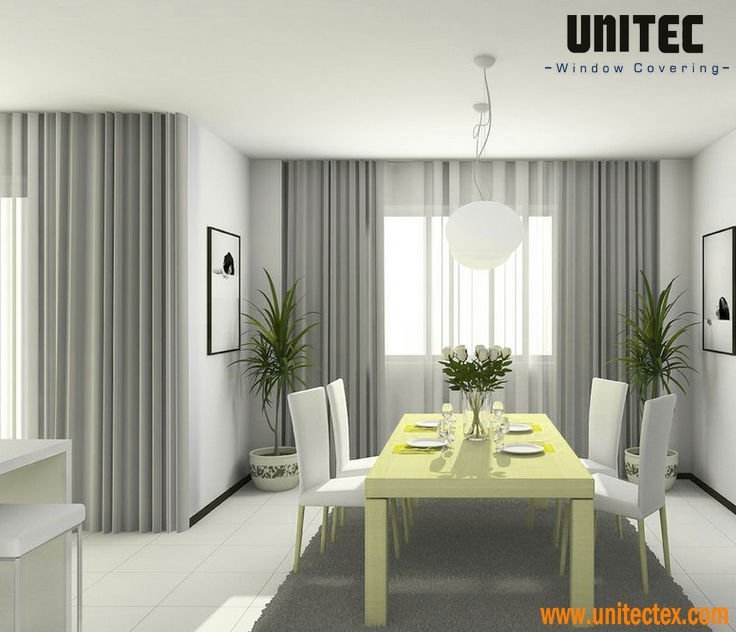 What is the minimalist style?
This year's modern curtains bring the most functionality and elegance to your rooms. In addition, they are efficient in ensuring more privacy and also for the entry of light. This way, everyone's daily life can be made even easier with quality and durable materials.
If we love simplicity and harmony, we may be fans of the minimalist trend without knowing it.
Minimalism emerged in the 60s, and until today, it has not ceased to be the order of the day as one of the benchmarks in interior design. Minimalism has managed to position itself as one of the favorite decoration styles among decorators.
In 2021, curtains have even more technologies to compose your home environments. They also have cutting-edge fabrics, which promise long service life. So in today's post, you will see trends and the main models of modern curtains for this year. Come check with us!
Characteristics of modern curtains
Modern curtains are an essential decorative complement to achieve that effect of elegance and modernity. This type of curtains is characterized by their visual cleanliness, so the use of neutral and pure colors will be common. Above all, black, gray, and white tones are used.
With regard to fabric, modern curtains completely dispense with prints and use plain colors that will give the space a modern and sophisticated look. White and raw colors are the most used for modern curtains, in addition to black, in both cases also with subtle touches of color.
We want to advise you in the best way when choosing your modern curtains. Therefore, we are going to show you the different types of modern curtains and the best combinations, with which you can transform your home and achieve that modern and elegant style you are looking for.
Types of modern curtains
When choosing modern curtains we must take into account a series of factors, such as the color of the room and the furniture, as well as the amount of light we want.
If we talk about a room in light tones, dark modern curtains will be better; on the contrary, for a dark room, we can opt for light curtains. In this way we will create a very suggestive color contrast. The most daring designers combine modern curtains in bright colors with white walls or in light tones.
In addition, the type of modern curtains will have to adapt to the room in which they will go: the curtains for the bedroom will not be the same as for a living room.
What modern curtains should I use in my house?
To give a touch of sophistication to the environments, modern curtains are indispensable elements. After all, they are decorative items that deliver many functions. As an example, we can mention the privacy of the residents. Below, we have separated some models for you to know:
Modern curtains for living rooms
To give our living room that minimalist atmosphere that we so much desire, we can choose between several types of modern curtains that exist.
The most popular among decorators are smooth and translucent curtains in light colors, designed to wrap large windows, as if they were columns from ceiling to floor. These modern curtains will bring a feeling of spaciousness and volatility to our living room.
Another of the most current trends in modern curtains are Venetian blinds that in light colors form narrow rows of light in our living rooms. We can find them in aluminum or wood. In addition, the classic opaque roller blinds in light tones; perfect for small square windows. They are ideal for people who prefer to have little light in the room.
Modern curtains with smaller sizes have gained prominence in 2021. They are ideal for living rooms, as they prioritize the furniture present in the room. In addition, because they are shorter they also facilitate the cleaning of the place and provide agility for the day today. Very cool, isn't it?
Curtains for greater light entry
Curtains will always be a good choice for any room! And in 2021, this was no different. And this is due to the fact that they are excellent for the entry of light. Thus, they can be present both in the living room, in the kitchen and even in the bedrooms. They also provide adequate control of brightness.
Modern curtains for the bedroom
The rooms with a minimalist style are characterized by a type of decoration that follows the principles of simplicity and simplicity.
Among the most popular modern curtains for bedrooms, we find the Japanese panels ideal for covering large balconies. They are usually in dark tones providing an atmosphere of solemnity to the room.
They are also very common among modern curtains, the use of long and smooth curtains; which can be combined resulting in a contrast of colors. The most frequent combinations alter black, gray, and white tones in the curtains.
With the correct choice of your modern curtains, you will be able to complement the minimalist design of your house and you will get a pleasant feeling of modernity and elegance in your home.
Curtains that enable the environmental division
A very clever way to use modern curtains is to divide rooms. That's right! They can be very practical for separating living rooms from dining rooms, for example. Or even for makeshift offices. And they also make it possible to open in a practical and agile way, without requiring interference with renovation projects.
CURTAINS THAT GO TO THE FLOOR
Although they are already an old model, the curtains long to the floor never go out of style. And this is because they are very efficient in causing the impression of larger spaces. This feature is usually chosen to be used in small rooms, such as apartments. Very interesting, isn't it?
TRANSPARENCY CURTAIN MODELS
Modern curtains with transparency have everything this year! This is due to the fact that they are widely used by those who want to enhance the external spaces of the house. With this, they can give greater visibility to gardens, swimming pools, and other environments that add value to the place. They also give a beautiful view to the residents!
You may interested:
What are the benefits of natural roller blinds?
Persianas enrollables transparentes y de tul: una combinación de luz y privacidad