The luxurious blackout jacquard roller blind URB2301 can complement and improve almost any house, including modern, classic, and period styles. The roller blind uses 100% polyester jacquard weave and acrylic foam coating. Very suitable for some environments that sometimes require confidentiality. Such as office blackout roller blinds, hotel blackout roller blinds, house blackout roller blinds, movie room blackout roller blinds, etc. Not only that, because this kind of jacquard blinds with white shading foam uses jacquard patterns, which will bring another sense of decoration, but it will also make your house bolder.
Its printed patterns will also make your house look new.
The luxurious blackout jacquard roller blind URB2301 fabric is made of high-quality 100% polyester dyed base fabric with acrylic coating and no formaldehyde, which can help reduce toxins in the surrounding environment. The effect consists of horizontally interwoven yarns and various complexities. Not only that, this URB23 series can also provide 100% shading effect, so that you have your own private space. This is a new type of blackout roller blind developed by UNITEC and major factories at a reasonable price, which helps maintain a comfortable and energy-saving living environment, and is very suitable for home theater rooms and bedrooms. Not only that, it can also block the faint sounds of the outside world and make your accommodation more beautiful. It is a very thick fabric, so its toughness is also high. Not only that, but the surface also has some patterns that can have a better aesthetic effect.
The luxurious blackout jacquard roller blind URB2301 can be used in all major public facilities. Household shutters, office shutters, hotel shutters, airport shutters. So how do we choose? What are its uses and advantages?
This is a prerequisite for every (living) space, office or other business space. The luxurious blackout jacquard roller blind URB2301 has a unique pattern and can be customized by hand. The materials we use are environmentally friendly, PVC-free and fire-resistant!
UNITEC is the world's leading manufacturer and supplier of roller blinds. The luxury shading jacquard roller blind URB2301 not only insulates the building, but also provides shading effect. It reduces the noise in the room and reduces heating costs. Not only has a good appearance and service life, but also can meet the most demanding customer requirements.
UNITEC's roller blind fabric technology.
1. Yarn: buy by yourself: control product quality from the source (Mainland, Taiwan, India, Pakistan)
Inspection: Use a machine to check the strength and toughness of the yarn
2. Weaving: Joint-stock weaving factory. (Machine, half domestic and half imported from Germany)
3. Dyeing factory: cooperative factory
4. Coating: own factory (4 production lines, 2 purchased from Taiwan, 2 purchased from Korea-Zhaofeng Coating Machine)
feature:
Additional light control
Elegant appearance
Easy to clean
We can make jacquard blinds with white shading foam according to customers' requirements for jacquard shading curtain fabrics. Our delivery time is also very fast, and there are many fabrics available for customers. The fabric of this luxurious blackout jacquard roller blind URB2301 is easy to install and convenient, and it is a quick choice for owners.
Compared with Roman blinds and wooden blinds, the price is very reasonable, and it is your first choice for roller blind fabrics.
What are the benefits of luxury blackout jacquard roller blind URB2301?
More and more people are responding to this problem. Why does the luxury blackout jacquard roller blind URB2301 sell so well? Since this roller blind is quite cheap, it is not as complicated and expensive as traditional roller blinds. Roller blind fabric is very simple and space saving, whether it is a large room or a small attic, it can be used next. This roller blind provides 100% blackout. When you need a nap, but the outside sunlight is very dazzling, then you pull down the shade roller blind, you will have a dark space, not only that, it can also help you isolate the outside noise, so you have a very good environment .
Why is the luxury blackout jacquard roller blind URB2301 suitable for houses?
Because this jacquard roller blind has excellent heat and reflection characteristics, it helps to maintain an energy-saving environment and a comfortable living environment. Using high-quality raw yarn, the warranty period is 4-5 years. And it can also be customized to be flame retardant and waterproof. White acrylic coating on the back. It comes in a variety of colors, can be used with other UNITEC series, and can be used with sunscreen roller blinds, vertical blinds and zebra blinds.
The luxurious blackout jacquard roller blind URB2301 is characterized by that it can provide maximum privacy in any space. It can completely isolate external light and has high resistance. They are also easy to clean and install. Since its design allows the fabric to be rolled up and hidden, it does not take up much space. And the operation is very simple because it can be done manually by pulling the chain, or it can be done automatically by a remote control that allows you to move up and down, and it can be operated electrically. Very simple and convenient
Functions of luxury blackout jacquard roller blind URB2301:
Mildew proof
All our UNITEC products can be customized, with antibacterial and anti-mold functions, which can prevent bacteria from growing in certain harsh environments.
When it comes to UV degradation, UV-resistant glass fibers can better replace polymers.
anti-static
Reduce static electricity, which can damage electronic components such as computers or ignite flammable liquids.
Non-flammable
The fire resistance can be customized, and the fire resistance can reach B1, NFPA701 level.
100% occlusion
Enough to block 100% of the direct light source, with maximum light absorption, thermal insulation and low thermal conductivity.
Very high damage resistance
This kind of blackout roller blind has extremely high resistance to damage. The most durable polyester blackout roller blind UX-001 uses very practical polyester fiber, which hardly changes with time.
UNITEC after-sales service:
What is the typical delivery time for an order?
Our production needs 4-5 weeks after deposit
What if the product fails the test?
1 Arrange photocopying (quality inspection during production process based on test results)
2 Fabrics that fail the test will be converted to domestic sales and sold to finished products factories.
Product parameter
| | |
| --- | --- |
| Composition (BO): | 100% Polyester Jacquard weave with Acrylic Foam Coating |
| Width: | 2.0m,2.5m, 2.8m, 3.0m |
| Light Fastness: | 5-6 (Blue Scale) Tested to ISO 105-B02:2014 |
| Nominal weight: | 415±5%gsm (BO) |
| Nominal thickness: | 0.59 mm (BO) |
| Quality Warranty: | 10 Years |
OVERVIEW
1. Parameters:
Application: Roller blinds, Blackout roller blinds,Jacquard roller blind
Technical Data:
•Composition (BO): 100% Polyester Jacquard weave with Acrylic Foam Coating
•Width: 2.0m,2.5m,2.8m,3.0m
•Light Fastness: 5-6 (Blue Scale) Tested to ISO 105-B02:2014
•Nominal weight: 415±5% gsm (BO)
•Nominal thickness: 0.59mm (BO)
•Fire Classification: California U.S. Title 19 (small scale), NFPA 701-2010 TM#1 (small scale), BS 5867 2008 Part 2 Type B Performance.
Performance:
•Opacity: Blackout (Complies to AS 2663.3.1999)
2. Certification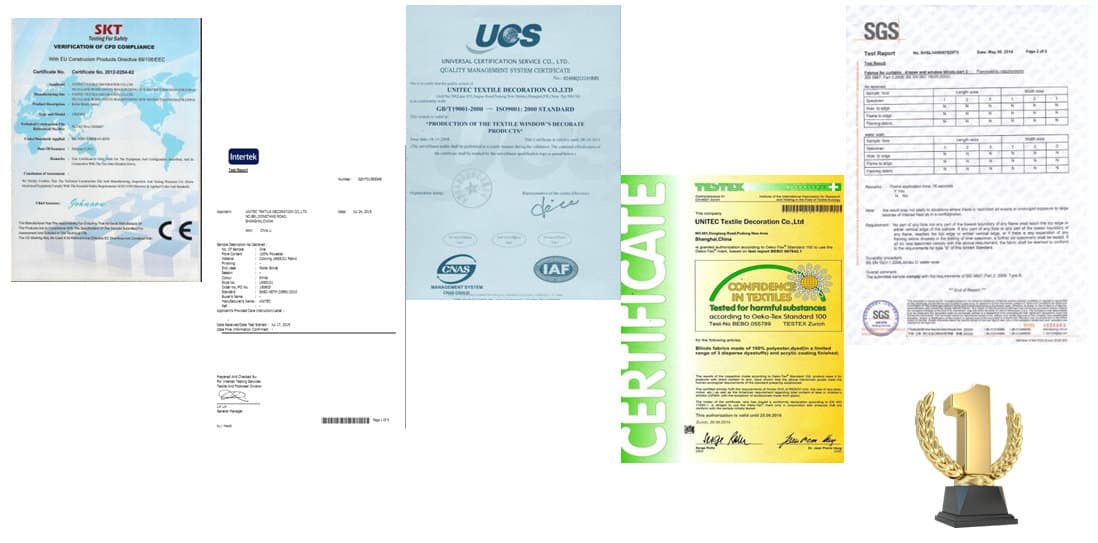 PACKING & SHIPPING
1. Packing:
Length per roll: 30m/30 yards
Inner packing: hardboard tube and kraft paper/ poly bag
Outer packing: hardboard tube and tube cover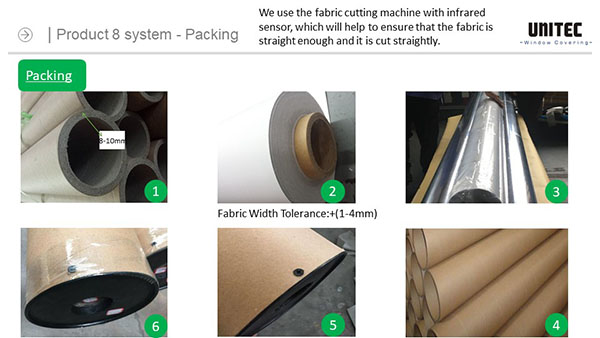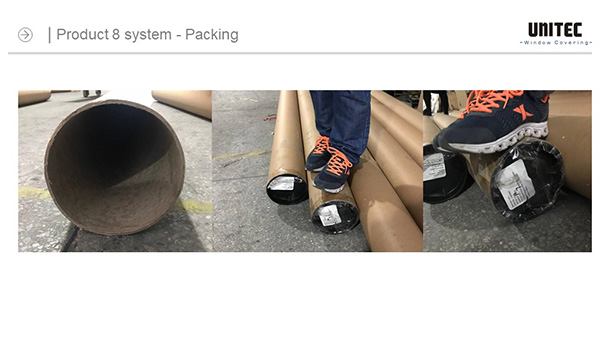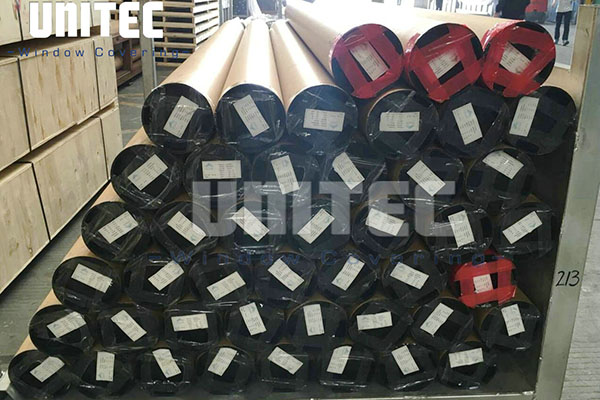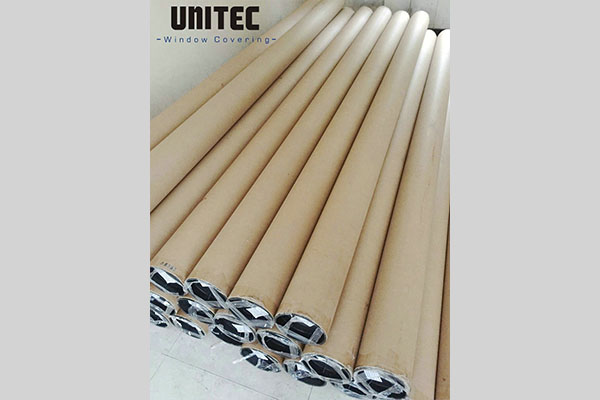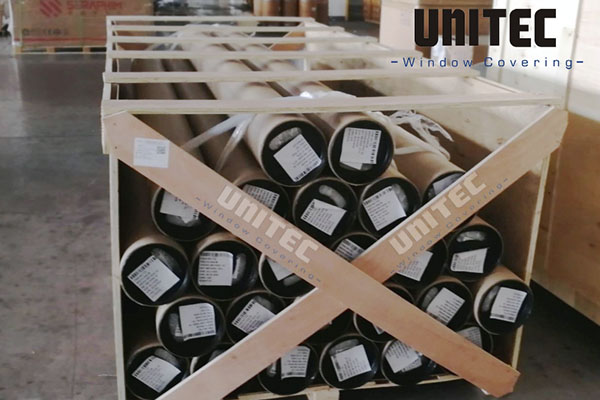 Container Loading: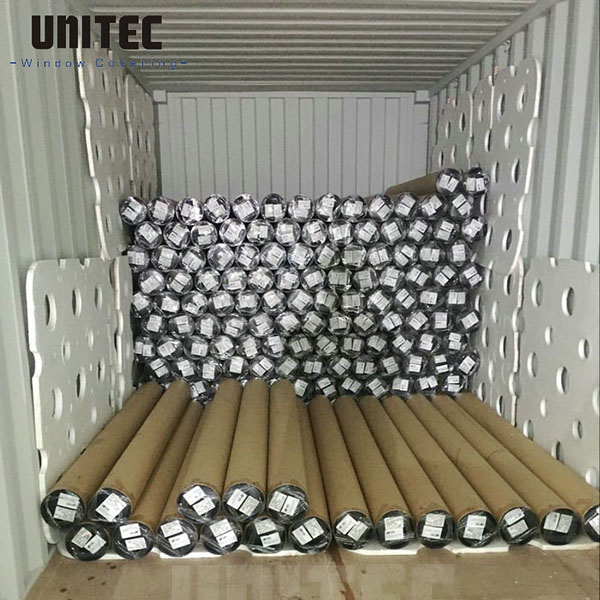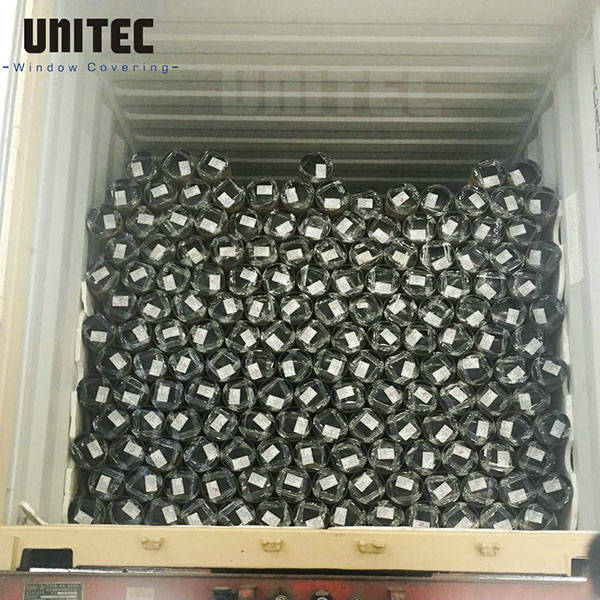 Shipping Method:
Air Shipment & Sea Shipment