DETALLE DEL PRODUCTO
Overview
Packing & Shipping:
Quality Assurance
The fabric Linen BO collection is a Blackout Natural linen roller blinds with PES fabric, made of eco-friendly materials, so, linen look blackout roller blinds into your decorating scheme such as our amazing LINEN blackout fabric collection and creates an elegant and sophisticated look.
This new roller blind collection consisting of linen (>50%) is the ideal solution for your window as it filters sunlight without blocking it (opaque category)
Its sophisticated texture ensures full daytime privacy and adequate privacy at night under moderate lighting.
Combine the natural elegance of our Linen Look Roller Blinds collection with the benefits of a high-quality product that provides total shading and sun-blocking conditions and creates a cool and sophisticated atmosphere into your room.
Our most popular roller blind and Natural Linen Roller Blinds collection is now available with extra foam coating in white color at the backside that makes it the most reliable window shading solution for absolute sunlight blockage and excellent resting conditions.
Our LINEN BLACKOUT blinds fabric- due to their superior solar and temperature control- can make your summers a little cooler and your winters a little warmer! At the same time, they can protect your furniture from extensive sun exposure.
Their plain, woven texture with its natural composition (more than 50% in linen at the front side) can work equally well in all kinds of interiors – classic and contemporary Linen Roller Blinds – and can be the ideal match for any further Window Blinds.
The Linen Roller Blinds fabrics are ready to order, can be shipped within 2-5 working days, easily installed and maintained, and come in 3 natural colors (Snow, ecru, beige) for a clean and minimal look.
ALL OUR BLINDS ARE MADE TO MEASURE AND WILL FIT YOUR WINDOW PERFECTLY.
With superior heat and reflection properties, it assists in maintaining an energy-efficient environment comfortable living environment. With high-quality raw fabric, The warranty period is 5 years. so, It can be made to room darkening shades, blackout shades fabric and translucent blinds fabric finishing and also flame retardant and water-proof. Available to White backing acrylic coated and color acrylic coated. the wholesale Window Blind Blackout Roller Blind Fabric Available in a range of colors that coordinate well with UNITEC Blackout fabric Manufacturers & Suppliers ranges and can be used with the roller blinds, vertical blinds & panel blinds.
Overview
Blackout Natural Linen Roller Blinds
Application: Roller Blinds, Vertical Blinds, Panel Blinds
Technical Data:
• Composition (BO): Polyester, Cotton & Linen with acrylic coating
• Width:2.5m,2.8m,3.0m
• Light Fastness: 5-6 (Blue Scale) Tested to ISO 105-B02:2014
• Nominal weight: 275±5% gsm (BO)
• Nominal thickness: 0.50 mm (BO)
Performance:
• Opacity: Blackout (Complies to AS 2663.3.1999)
• UV Protection: Tested to AS/NZS 4399:1996
• Blackout Performance: UVA 99.95% | UVB 99.95
TR: UVA 99.59% | UVB 99.95
Care:
• Surface dust should be removed with a duster or soft cloth. Never use abrasive products or solvents/industrial based cleaners.
Note:
• Color variances may occur between fabric production batches. These variances are within industry tolerances.
Packing & Shipping:
Length per roll: 30m/30 yards
Inner packing: hardboard tube and kraft paper/ poly bag
Outer packing: hardboard tube and tube cover
Hard cardboard tube to protect the fabric
Quality Assurance
The final inspection would be made before shipment.
Inspect the flatness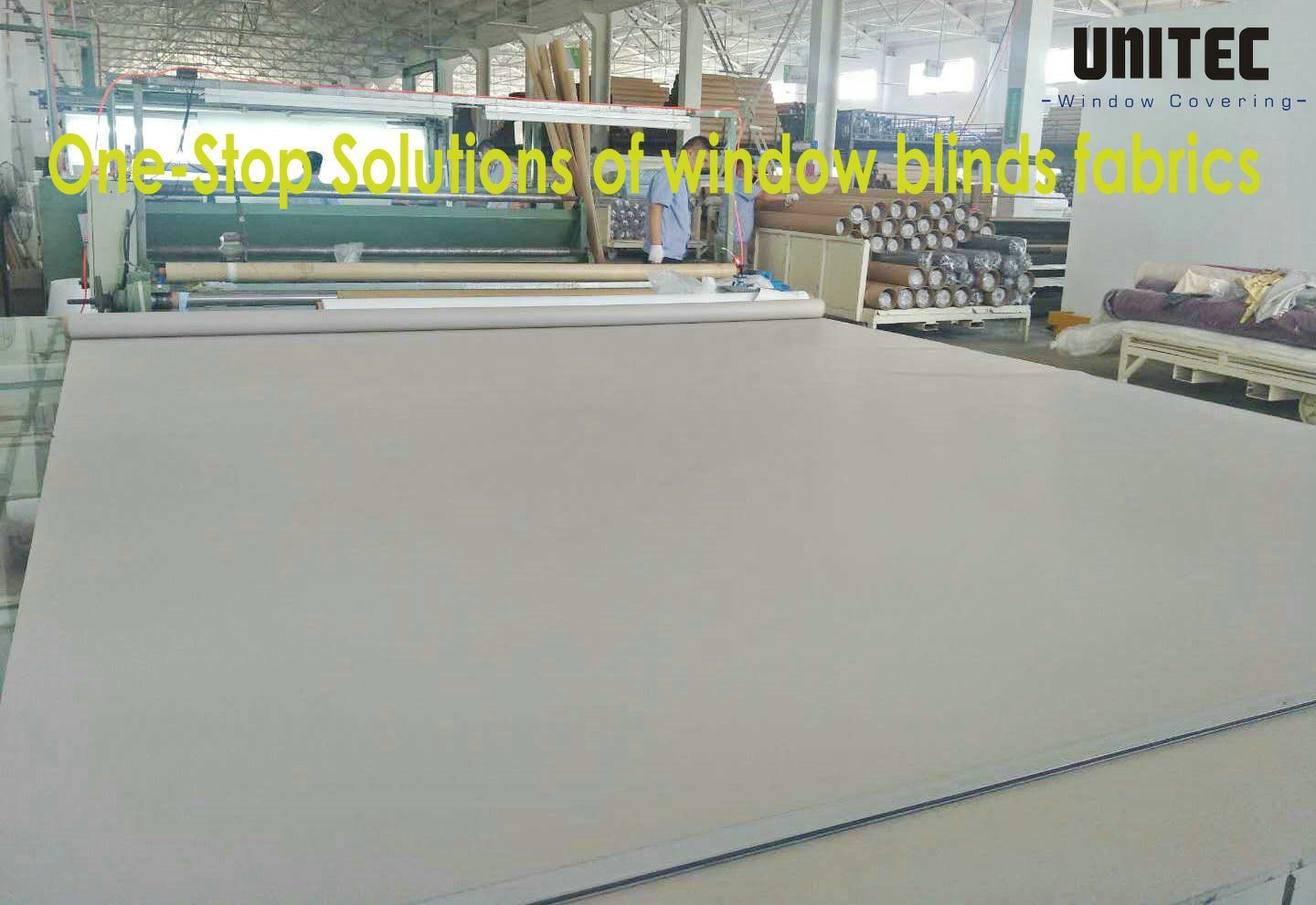 Fabric Thickness:
Fabric Weight:
Inspection Report made by QC team: