Kitchen curtains: Tips for choosing the best curtains for the kitchen
Why choose kitchen curtains? What advantages do they have for the decoration of your kitchen? In this post, we explain why you should choose kitchen curtains.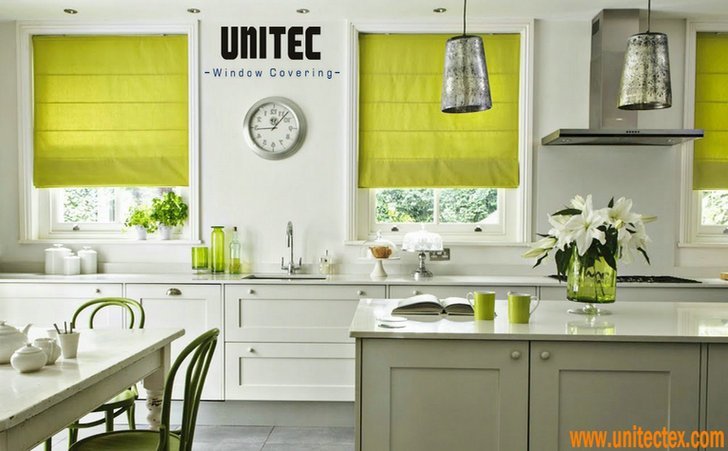 You may interested:
Decide on the best kitchen roller blinds idea
You are right. Kitchen curtains because are you going to miss the opportunity to make your kitchen windows beautiful? We are more than sure that not. That you are looking for those kitchen curtains that best suit the decorative style you have in your kitchen and make it happy and harmonious.
And, believe us, kitchen curtains are a great option, especially if you have a spacious and spacious kitchen that may have several windows. Yes. You will have to follow the trail of the most modern kitchen curtains on the market and also take into account some tips that we will begin to describe immediately.
The kitchen is an increasingly family gathering place and of course you want to decorate it as it deserves. Good kitchen curtains will come in handy for you. Nobody likes those curtains with fruit motifs or boring geometric motifs anymore. Like everything in life, the decoration sector also evolves. As the kitchens themselves have done, which are assembled with the most diverse materials: steel, wood, marble …
Kitchen curtains have two main functions. We have already noted the first. It is one more element of the decoration. The second is more practical. It's about the sunlight and giving you that privacy you need for your family in the kitchen.
The fabrics of the kitchen curtains, which one to choose?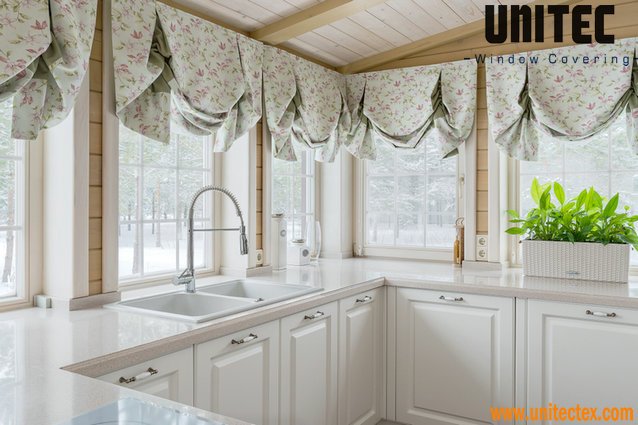 Before reading below contents, you should read below kitchen blinds ideas:
How to choose the best Modern kitchen window blinds?
The best blinds for the kitchen
It is clear that we will look for some decorative kitchen curtains but we will not lose sight of the fact that we also want them resistant and easy to wash. They also have to withstand the kitchen fumes and humidity that often also occurs in this room of the house. We are cooking and these conditions occur very often.
So if you want to put white curtains, for example, we advise you to use cotton. This natural fiber is very resistant. It is a light fabric and it will not cost you any extra work to wash it. If you opt for colored kitchen curtains, cotton is also very suitable.
Kitchen curtains that let in the sunlight
As you can see, cotton is a very resistant element. You can also see that there are different types of texture. For kitchen curtains, it is very normal to combine the softness of cotton with polyester. In this way, when mixed with this artificial fiber, it still gives it more resistance. There is also a third possibility, which is to mix cotton, viscose, and polyester.
Apart from the combinations of natural and artificial fibers, what you always have to keep in mind is that the kitchen has to be a space that has a lot of light. And you should not put curtains that obstruct that entry of light. So the most advisable thing is to opt for light colors. They are the ones that best allow it to penetrate but they are also the ones that create a feeling of more spaciousness.
It is also not advisable not to overload the curtains. That is why we opted for kitchen curtains because they are light. You do not need to put curtains. With these curtains you will already dress the sale of your kitchen properly. In any case, you can opt for white or beige sheers or with soft patterns to break the monotony of the light color a bit.
You can also opt for blinds
Kitchen curtains are great to decorate kitchens. To give them spaciousness and luminosity. Although it is true, as we have told you at the beginning of this post, that they are perhaps more suitable for large kitchens. But there are many decorative options and if your kitchen is not so spacious you can opt for blinds.
The blinds are very practical and we cannot deny that they are very fashionable. In the kitchen they will also give you that extra modernity that you are looking for. The kitchen blinds, due to their system, save a lot of space and are also very resistant.
As for the colors, we go back to betting on the light ones and more specifically on the whites because surely we want to have the more light the better in our curtains. You can see a large collection of kitchen blinds in our online store that you are sure to love. They are very easy to put on and take off.
The roller blinds have lately become the kings of kitchen decoration. They are easy to install and regulate the entry of solar rays very well. They are very resistant and you will have them as new for a long time.
The best thing about these modern kitchen window blinds is the material used to make them. Fiberglass is the best material par excellence, which allows images to be printed in high quality, provides privacy, and reduces excess light.
Fabric blinds must be able to withstand continuous washing and have a simple system for putting on and taking off. It is quite discouraging even having a rustic kitchen since for this type of kitchen we propose simple blinds, cheap curtains, and neutral colors.
Don't stop decorating your kitchen
In short, you should not stop decorating your kitchen. Either with curtains or blinds. Another advantage you have when buying from UNITEC Textile Decoration is that both the curtains and the blinds are made to measure. That is why you will always have the right curtain, the one that fits like a glove to your window.
Kitchen curtains are a very good option if you have a large kitchen because it will offer a lot of elegance and elegance to that room. And always thinking that they have to be resistant and easy to wash.
If you have a somewhat smaller kitchen, perhaps what suits you are the blinds, well rollable well packaged.
Both kitchen curtains and blinds must be in light colors to give a lot of joy to your kitchen.
And now a question. What have you put in your kitchen, curtains or blinds? Can you explain why? Leave us your answer in the comments section.