Japanese curtains: ideas for choosing your decoration
Choose the best Japanese curtains and achieve an authentic atmosphere of peace in the purest Zen style. In this post, we are going to tell you all the secrets so that you have the best Japanese curtains in your home. A decoration that never goes out of style.
Oriental decoration has established itself over time as one of the most popular decorative techniques in the world of interior design. Oriental lovers are seduced by its simplicity as well as the feeling of tranquility and harmony that it brings to each of the corners of our home.
The oriental decoration brings a very characteristic spirituality. In this style of decoration, the use of clean spaces is encouraged. Much importance is attached to lighting. Natural and abundant light is also sought.
In oriental houses, the use of pale and pastel colors prevails above all, which provide spaciousness and harmony to spaces.
We love oriental aesthetics and that is why we are going to advise you on how to maximize it with the best Japanese curtains.
Types of Japanese curtains
Good Japanese curtains should convey simplicity, purity, tranquility, and calm. That is why blinds tend to predominate in this style, the vast majority of which are plain and in light or neutral colors.
The Japanese curtains par excellence are the Japanese panels, also called shoji, special to separate spaces providing a warmth that can only be provided through natural materials, usually wood and paper. Japanese panels are perfectly combinable with other styles, not necessarily oriental, such as contemporary decoration.
PHOTO
Another type of very popular Japanese curtains in Zen decoration is wooden Venetian blinds. Venetian blinds made of beech wood are one of the protagonists. They provide naturalness. You can give your home that cozy touch of wood by combining light and dark tones. In the oriental style, the use of light wood predominates in harmony with the rest of the forms. Among the most daring designers, we can see contrasts between dark woods and light decorative elements.
Other options that can give our home an oriental atmosphere without having to rely entirely on this style are folding blinds and linen or cotton curtains, always translucent and in light colors to let in the light. Among the fetish colors of Japanese curtains, white and its entire range of neutral colors, such as ocher, gray and beige tones, stand out mainly.
The choice of roman blinds will be more successful when we want to cover small rectangular or square windows. With the use of this type of Japanese curtains, we will bring a feeling of order and cleanliness to our living room.
Where can I put my Japanese curtains?
If we want to renew your home with that traditional touch of the oriental, it is time to do it with Japanese curtains.
From UNITEC Textile Decoration, we give you ideas to choose the best Japanese curtains. You will thus achieve several different aesthetics depending on the room that we place them.
There are different oriental styles that we can achieve through the use of a type of Japanese curtains and the part of our house in which we place them.
To achieve the charm of Japanese living rooms, we must choose to dress our windows with Japanese panels; that will provide that feeling of luminosity and cleanliness that our living room so much needs. In this way, we will make the living room a large space for relaxation for any time of the day. We will also make it one of the main attractions of our home.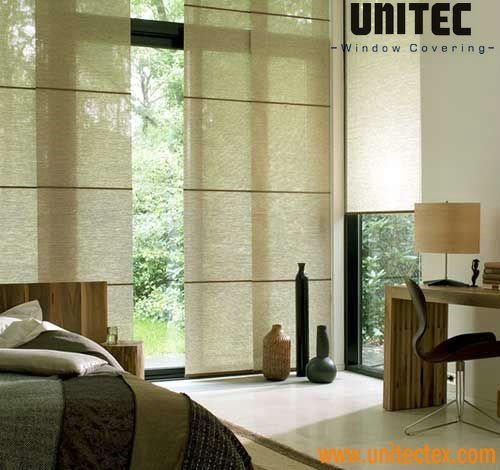 On the other hand, Zen bedrooms usually have smooth folding blinds or curtains, to provide a warmer and more fluid feeling. In this way, an atmosphere of peace in the purest Zen style will be created in our bedroom. And to this, the Japanese curtains contribute greatly.
Finally, we suggest you make your terrace an authentic oriental patio. Oriental outdoor decoration is characterized by the widespread use of wood. That is why we recommend the wooden Venetian blinds.
Bring home the spirituality of simplicity and harmony with the best selection of Japanese curtains.
Have you decorated your house in an oriental style? How did you do it? Tell us your secrets in the comment section?
You may interested:
How to choose the curtain fabric? A short guide