Green Curtains for 2021
Talking about curtains and colors
Rich and luxurious, yet calm and welcoming, forest green curtains color is certainly a color from many sides. We explore this striking shade and explain how to style it in your home.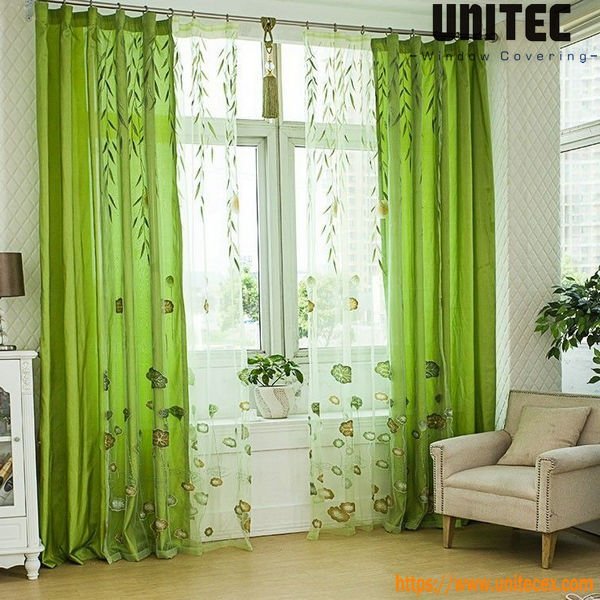 About the forest green curtains color
The words 'green forest' immediately evoke an impression of rich foliage; thick bushes, tall trees, and a low canopy of branches and leaves protecting the creatures and vegetation below. With these images in mind, it is not surprising that the green of the forest is often associated with the environment, used for markings and designs related to the land and its ecosystems.
Forest green interior design
But there is more to the green curtains forest than its namesake. Like its lighter counterparts, this shade can be linked to harmony, energy, money, and ambition, along with some sinister connections of jealousy and greed. Its similarities to emerald gemstones also make forest green curtains color of flamboyance and royalty. It's safe to say that forest green is a complex and versatile color!
How to use the green curtains forest in your home
As stylish as black and classic as navy blue, forest green curtains can work tremendously well on their own. It's worth noting that forest green hues can range from lush greens to deeper shades of emerald.
They all have surprisingly soft undertones, making them adaptable teammates for a range of different styles and trends. In-country houses, the green forest is a great option to achieve a natural feel and bring the outdoors indoors while maintaining a traditional look. Meanwhile, in contemporary spaces, forest green is a great way to inject luxury. Those who enjoy the mid-century look can also use forest green effectively, especially when worn with deep, rich ocher browns.
Green Curtains for 2021
The color pairs well with a range of hues, including reds, yellows, and beiges. Pairing it with pink and metallic blushes will create a more 1920s look, while a fuchsia pink combo is great for a bold modern statement. Forest green could also work alongside acidic shades of yellow and green; Deep forest elements will help ground the overall look, achieving a balanced effect.
One of the most effective fabrics for forest green is velvet, which emphasizes its richness.
Want to buying green curtains fabric?
UNITEC is a leading manufacturer of green curtains fabrics, roller shades fabrics, solar screen roller shades fabric and zebra blinds fabrics, please contact our sales team to get more information.
---
You may interested in: