Roller blinds a strategy to save energy
At UNITEC Textile Decoration Co., Ltd, we are fans of delivering multiple information to our customers to make the best decisions. That is why in this post we have named it "Roller Blinds a strategy to save energy", so you know that you can also use our roller blinds fabrics to make the Energy-Efficient Blinds and Shades. And we also provide some tips for choosing energy-efficient roller blinds.
Maybe you think you want to give the office a new style? How can I improve the image of my company? Energy-Efficient Roller Blinds and Shades are an excellent option to give you the professional look you are looking for and boost your corporate image and, therefore, the perception of your customers and the competence of your company. At the same time, they will help you save energy in your facilities.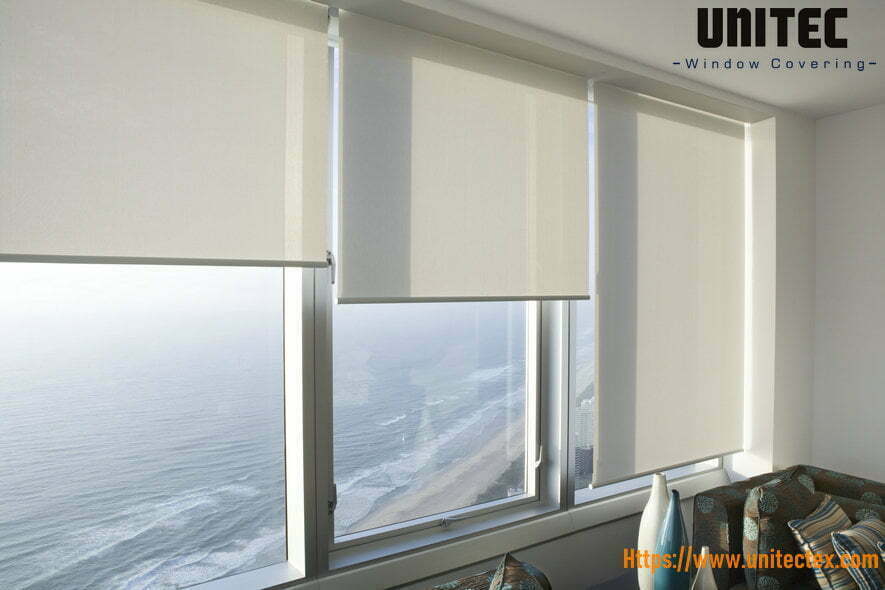 Here are some tips to keep in mind when choosing your Energy-Efficient Blinds and Shades.
Tip number 1 for choosing Energy-Efficient Roller Blinds and Shades
The size of the room is not all about lighting, since the orientation of the window and the entrance of sunlight are factors that can be controlled with the installation of a correct set of Energy-Efficient Blinds and Shades. Depending on the type of window you have in the room, some designs and models could be used to improve the lighting and image of the room. For example, roller sunscreen blinds are ideal to give a natural and elegant touch to your office.
Tip number 2 for choosing Energy-Efficient Roller Blinds and Shades
If what you want is to darken the room, it would be advisable to check the options and models of blackout blinds or blackout roller blinds to block the entrance of light mostly. Although the room is not very large, a curtain with a neutral color such as white or beige could generate a perception of spaciousness without compromising the lighting of the place.
Tip number 3 for choosing Energy-Efficient Roller Blinds and Roller Shades
On the other hand, if the space is large and abundant, the windows can make a contrast between the wall and the window with Energy-Efficient Blinds and Shades, which are elegant and colorful in various styles. It is essential to consider the length of the curtain; A longer curtain will create a deep visual effect that will make the room look bigger.
You may wonder, how can an Energy-Efficient window Blinds and Shades help me save energy? The answer to this question is direct; The windows are the main source of heat input and input, for this reason, the use of products such as Energy-Efficient Window Blinds and Shades Fabric helps block external heat and maintain the proper indoor temperature. The reality is that many companies choose to turn on the air conditioning for long periods, generating a constant expenditure of energy that could decrease if they only had the appropriate blinds and shades for their windows.
The issue of cost control is always a headache for businesses and even for the family. Therefore, reducing these expenses is a priority to maximize the value of the company. According to Schneider Electric Engineers, the first problem of energy control is based on the erroneous information that exists regarding energy savings (Energy-Efficient Blinds and Shades).
However, transnational companies have a cost control center and manage savings indicators to control their energy consumption; There is no such culture of energy management in medium and small businesses, nor in families.
UNITEC Textile Decoration Co., Ltd, a proud family-owned company that has extensive experience in designing, developing, producing and selling all kinds of roller blinds fabrics, sunscreen fabrics and zebra blinds fabrics throughout the world.