The T-PVC series is available in 10 colors and is suitable for roller blinds and panel shutters. The nature of PVC ensures that the series is durable, moisture-proof and long-lasting, while still maintaining an attractive appearance. Provide a color range that works well with other UNITEC series products, and can be used in combination with zebra roller blinds or sunscreen roller blinds. thin-density blackout roller blind T-PVC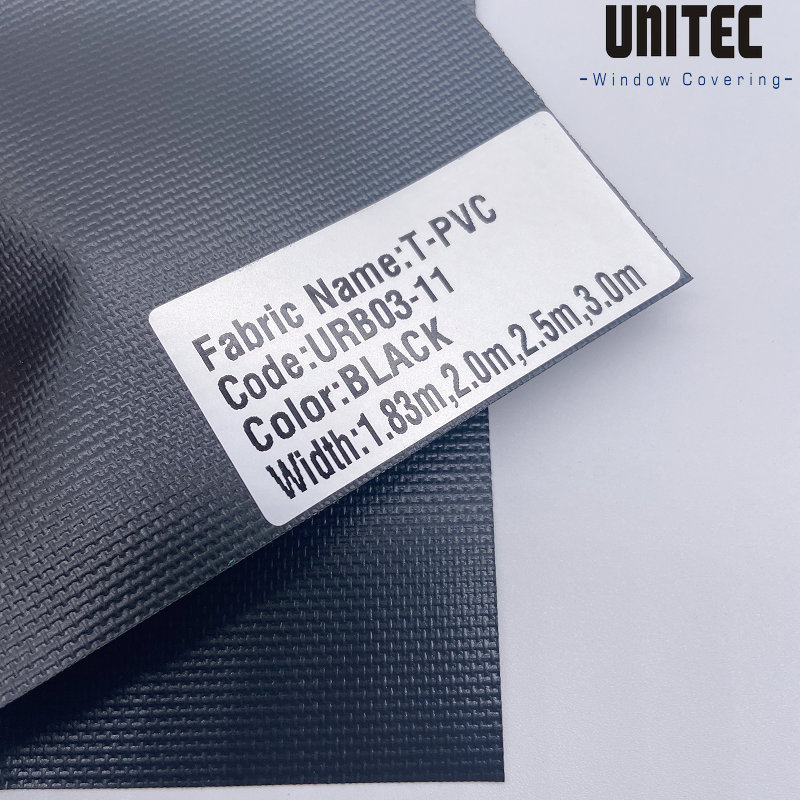 The thin-density blackout roller blind T-PVC is made of 25% fiberglass 75% PVC laminated (1 ply fiberglass, 3 ply PVC). It is the first choice for office blackout roller blinds, family blackout roller blinds, bathroom blackout roller blinds, and even kitchen roller blinds. Because PVC, a high-quality material, can be used in harsh environments.
This thin-density blackout roller blind T-PVC is a roller blind that absorbs heat and isolates noise. We can make production plans, product colors, and product effects according to customer requirements. This T-PVC roller blind is fireproof, waterproof, and antibacterial.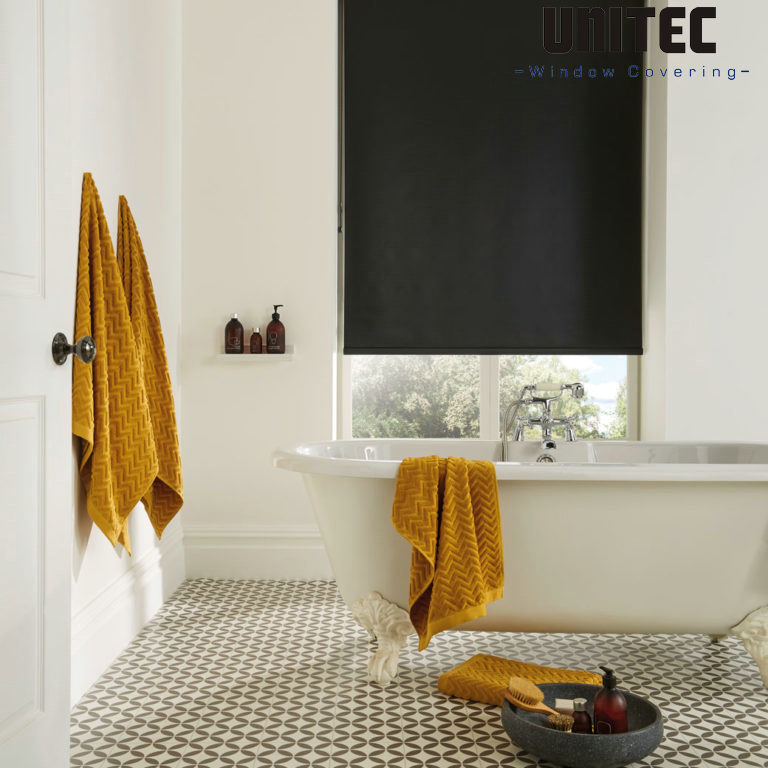 Product parameters:
Fabric Name: UNITEC newly developed thin-density blackout roller blind T-PVC
| | |
| --- | --- |
| Composition(BO) | 1 ply fiberglass, 3 plies PVC Laminated |
| Width: | 1.83m,2.0m,2.5m,3.0m |
| Light Fastness: | 5-6 (Blue Scale) Tested to ISO 105-B02:2014 |
| Nominal weight: | 440±5% gsm (BO) |
| Nominal thickness: | 0.39mm (BO) |
| Standard Packing: | 30m/Roll (Can be customized) |
What is the production process and quality control system of thin-density blackout roller blind T-PVC?
Roller Blinds Fabric Description:
Production Process
1.Spinning-Weaving-Cleaning-Dyeing-Inspection-Cleaning-Coating-Inspection cutting-Packaging
1. Yarn: Procurement by yourself: Control the quality of products from the source (Mainland, Taiwan, India, Pakistan)
Inspection: use the machine to inspect the strength and toughness of the yarn
2. Weaving: a weaving factory that occupies shares. (Machine, half domestic, half imported from Germany)
3. Dyeing factory: cooperative factory
4. Coating: own-owned factory (four production lines, 2 purchased from Taiwan and 2 purchased from Korea-Mega coater)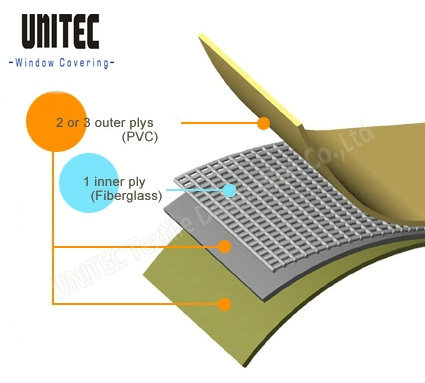 thin-density blackout roller blind T-PVC FEATURES:
MILDEW RESISTANT
A process of materials used in fabric manufacturing to prevent biodegradation and chemical decomposition.
ANTI-UV
Glass fiber can be a better alternative to polymers when it comes to UV degradation.
ANTI-STATIC
Reduces static electricity, which can damage electrical components such as a computer or ignite flammable liquids.
FLAME RETARDANT
It can be customized into fireproof materials, and the fire resistance grade reaches B1, NFPA701 grade.
100% BLOCKOUT
Sufficient to block out 100% of a direct light source, maximum light absorption, heat insulation, and low thermal conductivity.
WASHABLE
Washable, waterproof fabric to keep mud and dirt off, easy to clean.
The basic T-pvc roller blind fabric has passed SGS, OEKO-TEX and Intertek certification. Provide ODM and OEM services. As long as we have excess inventory, there is no quantifiable requirement, which is very convenient.
Our advantage:
Excellent shading ability
If you choose the shading fabric of thin-density blackout roller blind T-PVC, it will not allow any light to pass through, you can choose to achieve near power outage conditions during the day and night. If you often sleep during the day or live on a busy road, this may be an annoying problem, but you can cut this thin-density blackout roller blind T-PVC to a certain width to ensure that the windows are fully covered. Then block the noise from the outside world, so you have a very quiet environment.
Easy to clean and maintain
For many people, bedrooms or houses are one of the things you spend most of your time cleaning and tidying up. This is the way we usually want to keep the house beautiful, so the shape and design of the thin-density blackout roller blind T-PVC you choose is important. Due to its simple design, classic roller-style roller blinds tend to be very basic in shape and function. This makes it easy to clean.
UNITEC is a leading supplier and manufacturer of Basic and Premium Vinyl Roller Shades Fabric Manufacturer 1 PLY Fiberglass 3 PLY PVC, With superior heat and reflection properties it assists in maintaining an energy-efficient environment comfortable living environment. Available in 10 colors, And the colors can be customized. the thin-density blackout roller blind T-PVC is suitable for both roller and panel blinds. The nature of PVC ensures that the collection is durable, moisture-resistant, and long-lasting while still retaining an attractive appearance. Available in a range of colors that coordinate well with other UNITEC ranges and can be used with the Roller Blinds, Panel Blinds.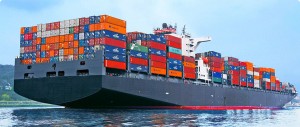 What is the typical lead time for an order?
Our production needs 4-5weeks after the deposit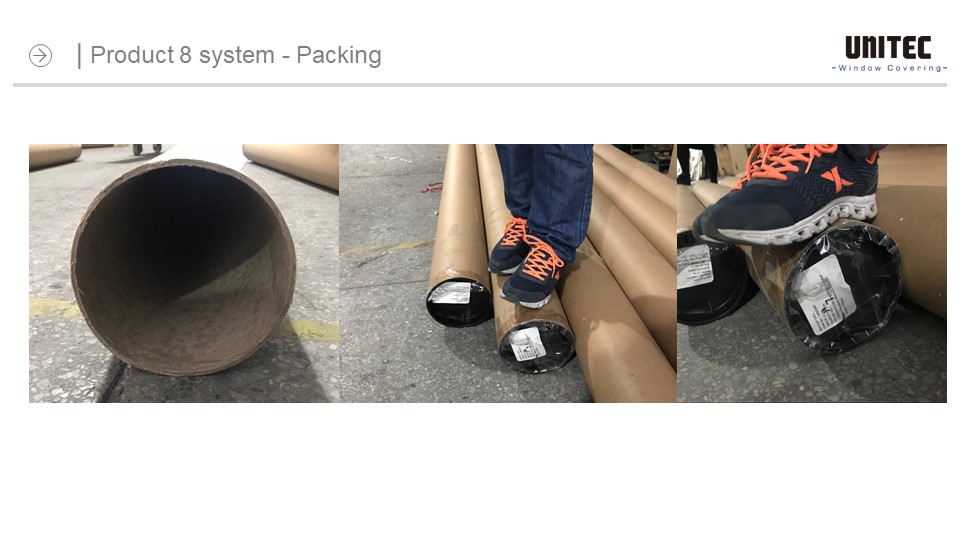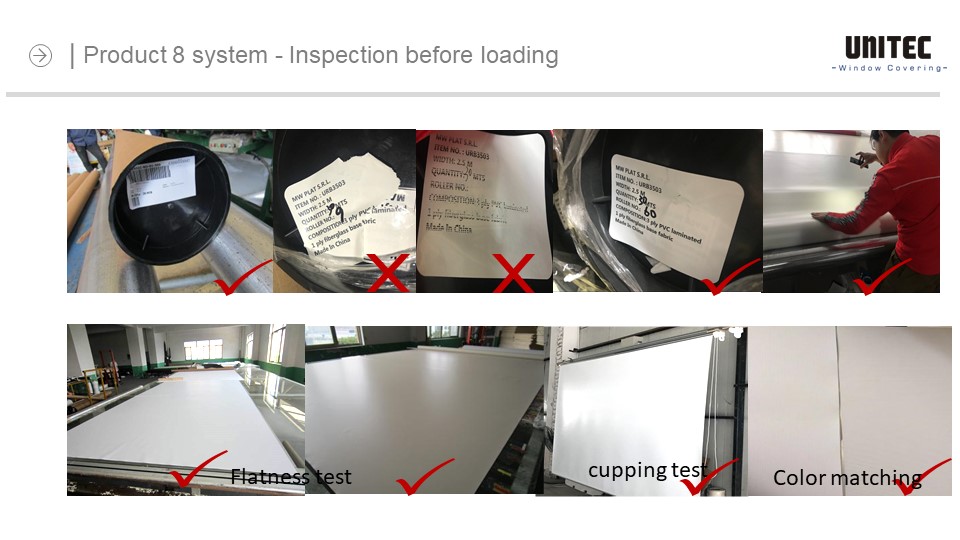 What should we check before loading?
1. Quantity: We check the quantity of the entire order and randomly check the quantity.
2. Packaging: We check whether the packaging is intact.
3. Label: We check whether the label is complete.
4. Size and function: We measure the width and number of rolls.
5. Color: We use a spectrometer to check the color.
6. Shading performance: We use strong light to test the shading performance.
7. Flatness: We check the flatness of the fabric on the long table.
8. Skew and cupping/curling: We make finished blinds to test the performance of skew and cupping.
Certification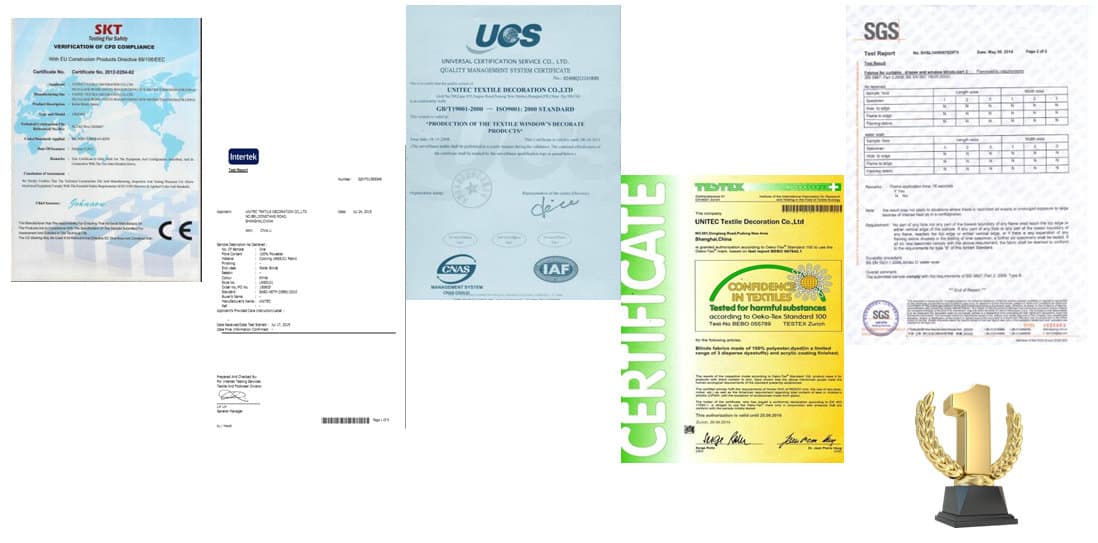 OVERVIEW
1. Parameters:
Application: Roller blinds, Roman blinds and Panel Window Blinds,PVC roller blinds,pvc blackout roller blinds
Technical Data:
• Composition (BO): 1 ply fiberglass, 3 ply PVC Laminated
• Width: 1.83m,2.0m,2.5m,3.0m
• Light Fastness: 5-6 (Blue Scale) Tested to ISO 105-B02:2014
• Nominal weight: 440±5% gsm (BO)
• Nominal thickness: 0.39mm (BO)
• Fire Classification: California U.S. Title 19 (small scale), NFPA 701-2010 TM#1 (small scale), BS 5867 2008 Part 2 Type B Performance.
Performance:
• Opacity: Blackout (Complies to AS 2663.3.1999)
PACKING & SHIPPING
1. Packing:
Length per roll: 30m/30 yards
Inner packing: hardboard tube and kraft paper/ poly bag
Outer packing: hardboard tube and tube cover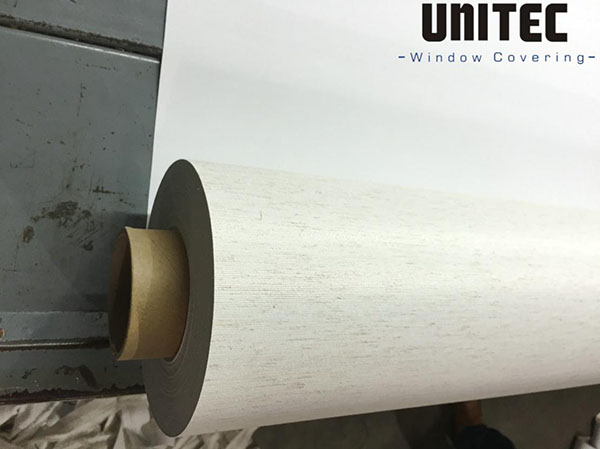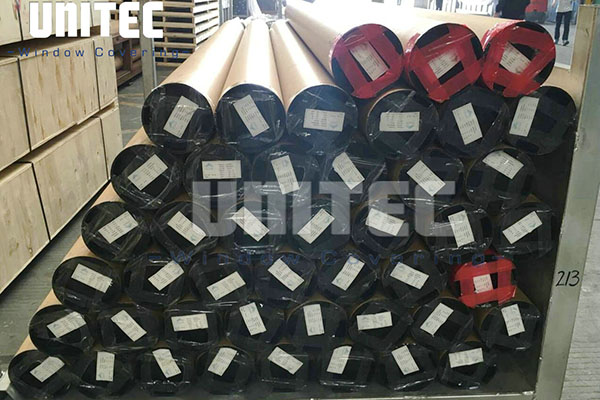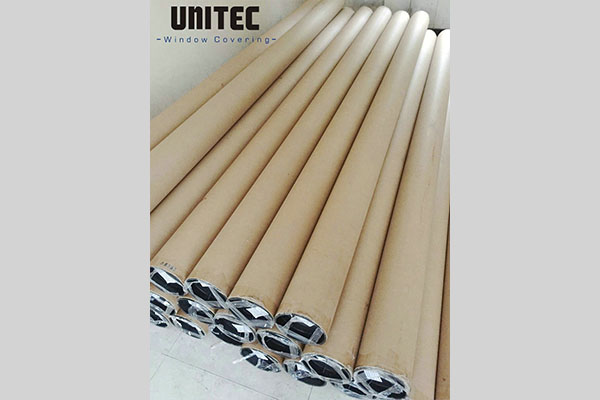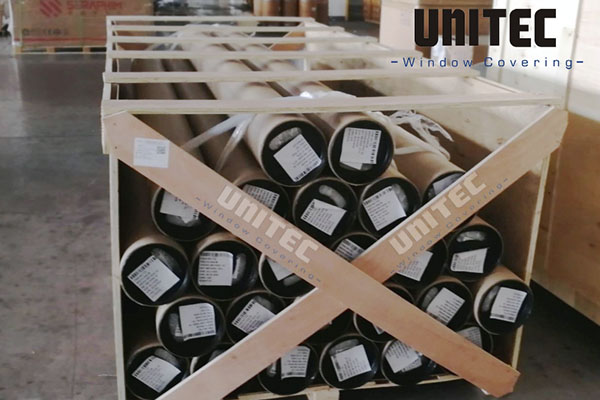 Container Loading: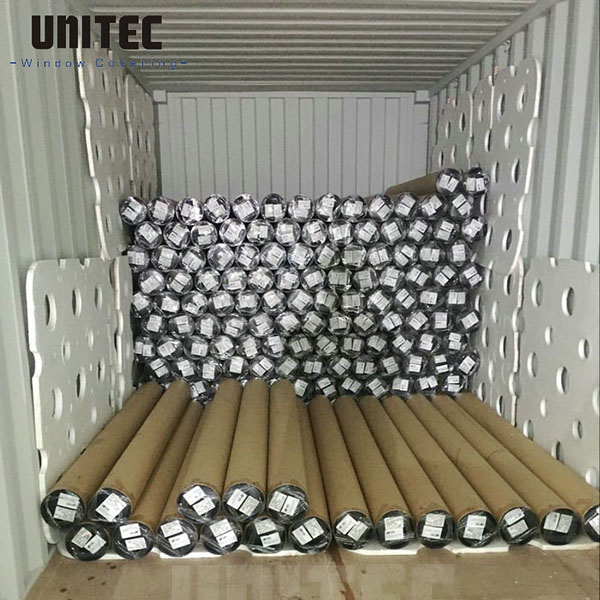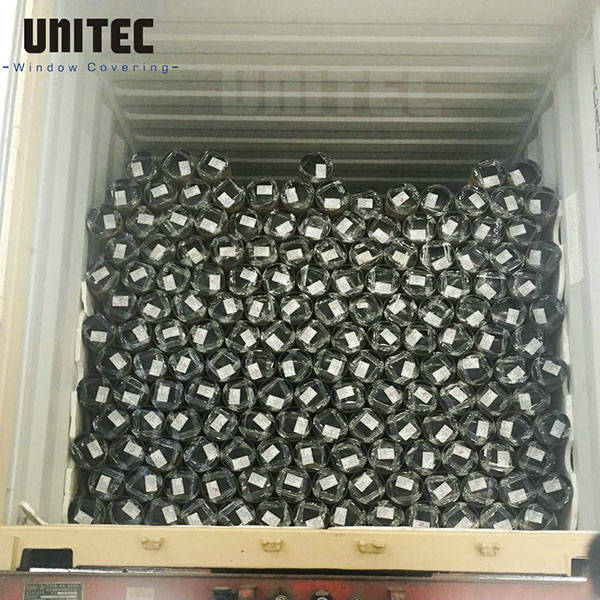 Shipping Method:
Air Shipment & Sea Shipment