What types of curtains and blinds are there?
Choosing each of the elements that make up an interior space can sometimes become a difficult task. Everything has to be perfectly combined, from the largest objects to those details that at first glance may seem insignificant. Within these elements, the curtains and blinds occupy a relevant place. And we should know that there are different types of curtains and blinds, such as curtains, roller blinds, Japanese Panel blinds, Vertical blinds, Venetian blinds and Corti Glass blinds.
And if what you want is to achieve an excellent harmony between all the ingredients that make up the decoration of a space, it is essential to choose the curtains and blinds.
Keep in mind that curtains and blinds do not only play an important role in terms of home or office decoration but are also capable of filtering the sun's rays, protecting us from sunlight. They can even influence the temperature and heat of the room.
Curtains, types and features
Each space is unique and different, and depending on its characteristics, we can opt for one type of curtain or another. Next, to facilitate your choice, we want to show you all the possibilities we have available in UNISIGN.
Roller blinds, synonymous with elegance
The roller blinds are perhaps the best option we have to regulate the entry of light to our liking. They stand out for their easy maintenance and because they are one of the best alternatives if what we want is to provide the space with modernity and elegance.
One aspect to consider is that they can be made to measure and with any fabric. The colors available are quite varied, so the possibilities offered are very interesting.
It is also possible to incorporate a drawer and the multiplier. This system guarantees the use of reduced force, allowing easy curtain collection.
And looking for maximum comfort, it is possible to choose between the Push Button Motor, which allows the roller blinds to be raised and lowered by means of a button located on the wall or by the Radio Motor, with which it is operated through the remote control. Another option is to opt for the most economical and traditional model, the crank.
Japanese Panel blinds, a decorative and modern alternative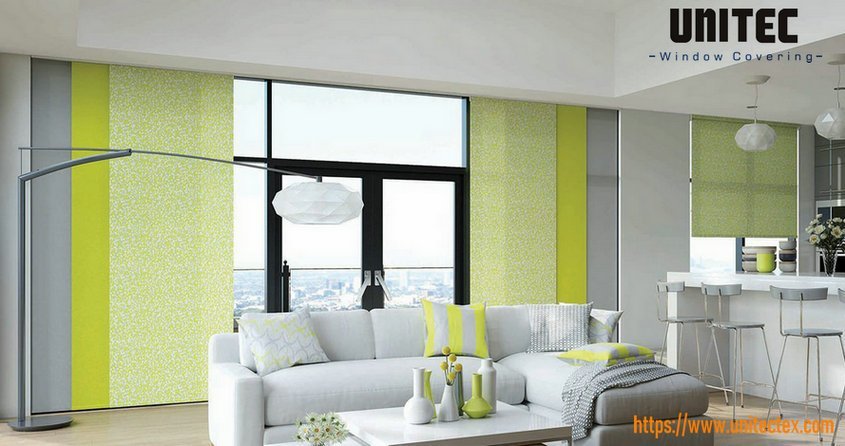 The Japanese panel breaks with the aesthetics provided by traditional blinds providing a touch of modernity that more and more people opt for.
Ideal to cover large windows, it offers a wide range of decorative possibilities due to a large number of combinations in patterns and colors.
Inspired by oriental houses and easy to install are perfect to control the entry of natural light. Its vertical panels blinds, placed on a rail, can move and cross each other.
As with roller blinds, the Japanese panel also allows the option of incorporating the Radio Motor, with which to operate the curtain through the remote control. It has a great variety of opening combinations. They can go with a drawstring or pull and even by hand.
Vertical blinds, maximum light control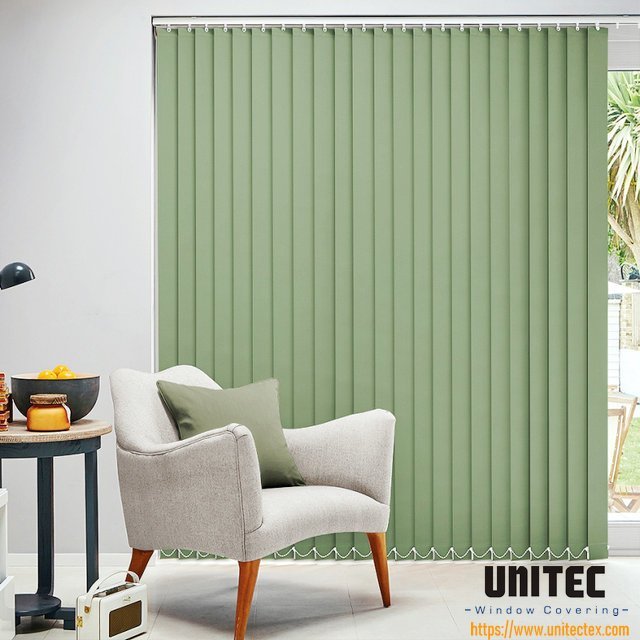 The main advantage of vertical blinds is that they allow modeling the amount of light entering the room. It even offers the option of directing the light, which is an advantage over other types of curtains and blinds, Another feature that we highlight is that they can be manufactured with any type of fabrics and size.
To guarantee maximum comfort, the vertical blinds can be operated by a motorized system with remote control. It is also possible to install them with the traditional cord.
One of the advantages of vertical blinds and curtains are that they adapt to irregular spaces. They are composed of a series of vertical slats attached to a rail, allowing the rotation of these slats up to 180 degrees, with which we can control the light that enters from the outside to our liking.
Although vertical blinds have always been installed frequently in hospitals and offices over time they have been sneaking into a large number of homes due to their style and elegance.
Venetian blinds, all personality
To talk about wooden Venetians is to talk about personality, and they give the warmth of the spaces and an unequaled aesthetic. In addition, this type of Venetian blinds allows modulating the entry of light, and as it is non-textile material, it makes maintenance and cleaning much easier.
As for the extras, the Venetian blinds can go with ladder cord or tape, can be made inclined and in virtually any color. To handle them it is possible to do it by means of remote control or with a crank.
On the other hand, aluminum Venetian blinds ones, like those made of wood, can be made to measure. Ideal for offices and studios, they provide without a doubt a distinguished touch. They are available in the colors Sumatera, smooth and perforated metal and can go with cable guides or tape or between crystals, while the slats are 16 mm and 25 mm. To raise and lower you can choose between the traditional crank, or by a single lever or by operating the mechanism by means of a cord.
Corti glass blinds
These types of blinds and curtains are ideal for installing on tilt-and-turn and practical doors and windows, allowing the easiest opening. They can be customized thanks to digital printing, stamping on it the drawing or image we want. That is why it is usual to install them in children's rooms.
Among the advantages, they offer the possibility of installing Corti glass blinds in several types of windows and in less than 15 minutes. You just have to screw the frame to place the side guides.
After reading this article, we hope that it will be easier for you to choose the different types of curtains and blinds. On our page, you have all the information you need. If you want more personalized attention, you just have to contact us.