WHAT ARE BLOCKOUT ROLLER BLINDS FABRIC AND WHAT ARE THE BENEFITS?
Blockout roller blinds fabric is mostly heavy roller blinds fabric in their elaboration and in the type of material with which they are made. These are ideal to completely isolate sunlight from outside.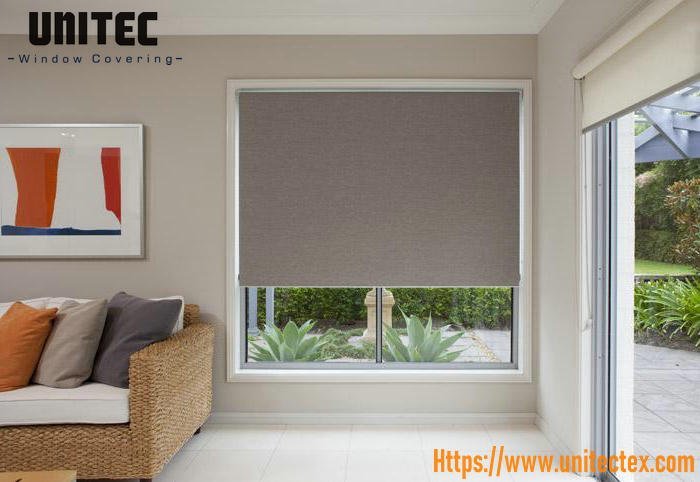 Blockout roller blinds fabric also work for those enclosed spaces where artificial light also interferes, being mostly used in conference or meeting rooms, where projectors are often used and where due to clarity, it is difficult to distinguish the image.
If you want to know a little more about this type of Blockout roller blinds fabric, we invite you to keep reading!
Characteristics of Blockout roller blinds
These Blockout roller blinds can be manufactured in different materials and do not necessarily have to be rings and fabrics like conventional ones that must be rolled to achieve them.
Conventional Blockout roller blinds of this type are used for small rooms such as a classroom, doctor's offices, a room, hospital rooms, etc.
Thinking about comfort and good design, they can be manufactured in different Blockout roller blinds fabrics and you will also have the option to motorize them.
Its main feature is that blockout roller blinds fabric allows to completely isolate the light from the outside turning the room into a kind of movie theater but they can also reduce the thermal sensation or increase it since there are some that have insulating technologies and others that help to store heat.
The insulating systems in this type of blockout roller blinds fabric contain a kind of layer that reflects the light on the outside, preventing heat from entering the room.
Sound insulators – blackout roller blinds fabric
These fabric blockout roller blinds are made with insulating materials such as polyester and acrylic, along with a thick layer of cotton. They are perfect for those noisy places where sonic contamination is more than remarkable and that for our own pleasure, we want to have a little silence. Block light from entering your room with blackout roller shades. Our Classic blackout roller shades are great for nurseries and bedrooms
Roller blinds are a specific type of blind, made of sturdy and durable fabric that is attached to a roller. The modern roller blinds are made of aluminum or some especially strong tubular plastic. The blackout blinds are raised and lowered by winding the roller blinds fabric around the roller and can be adjusted with a chain or motorized mechanism for comfort.
Traditional blinds use horizontal or vertical slats to provide privacy and light filtration in a room. These tablets are often made of wood, plastic or metal, and are connected by wires that run through each board. Roller Curtains provide privacy and block unwanted sunlight with a single length of fabric. In this sense, the ease of cleaning of the latter is incomparable.
Because roller blinds are made of durable fabric material, there are various styles and colors for customers to choose. At UNITEC, we offer BlackOut and SunScreen Roller Curtains with sunscreen that are made of a unique fabric that is excellent for blocking UV rays while maintaining your view and privacy. BlackOut Curtains are 100% LigthBlock and block virtually all sunlight, just as SunScreen Curtains provide us with a vast range of contemporary texture.