Blinds vertical slat and fabric screen blinds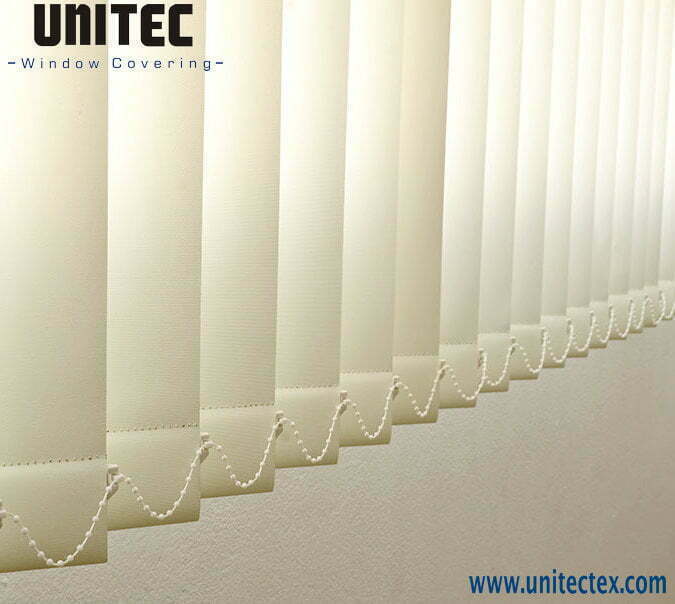 The blinds vertical slat and fabric screen blinds are a perfect option if what we are looking for is to let the outside light pass but at the same time have privacy. Depending on the level of openness that our fabric has, we will obtain a different effect on visibility. Thanks to this, they allow not only the full use of natural light that comes from outside but also the heat that it generates, since being a Screen fabric makes them more insulating from both cold and heat. Therefore, they are specially designed to dress rooms where these factors (light and heat) are excessive.
Screen fabric is a tough, perforated micro fabric that does not tear or lose properties. Its composition can be polyester, PVC and fiberglass and they also have M1 certificates. For their cleaning, they do not admit a washing machine, but it will be enough to wipe with a damp cloth to remove any localized stain. The screen acts as a thermal regulator for both cold and heat, since it only lets light through, which gives us energy savings. Fabric that allows us good visibility to the outside, guaranteeing privacy, since it does not have visibility from the outside. The same does not happen at night, if we have a lot of lighting in our room it will do the opposite effect.
What is the opening factor of a Screen fabric?
It is the determining factor of the visibility and UV protection of this type of fabric. Technically, with this factor, the degree of opening is defined, as the percentage of the total surface that a tissue occupied by pore or hole. The influence of the degree of opening with sun protection is related to the passage of light into a room, allowing more or less transparency in the fabric. The opening, thickness, and color of the fabric influence the absorption of heat, this is essential when consuming both air conditioning and heating. In this way, the screen fabric favors considerable energy savings.
Mechanism of a Vertical Blinds
The mechanism or rail for vertical blinds is very easy to operate and very easy to install. Composed of an aluminum rail in white, black or gray colors, in which it has a cord (to be able to collect the slats) and a chain to be able to regulate the slats. It will be enough to make a movement with the hand to be able to open and close the vertical slat blinds. The slats that can be found in two different widths, 89 mm slats and 127 mm slats can rotate up to 180º. They are supplied with supports for the ceiling, in case you need to overcome any obstacle such as radiators, window handles we also have supports for wall. All our vertical blinds are made to measure and used high quality materials which guarantees a long product life.