blackout curtain fabric
Curtain introduction
The blackout curtain fabric is a shaded curtain made of decorative cloth designed and sewed. The home uses a layer of window screen and a layer of curtain. Curtain rails have curtain rails and curtain rods. Curtain rails are generally installed in the curtain box; the curtain rod itself is an ornament that can be used for surface mounting. The main function of the blackout curtain fabric is to use it for indoor shading, while preparing for decoration and beautiful features.
Process classification
Blackout curtain fabrics can be divided into printed fabrics, dyed fabrics, dyed fabrics, jacquard fabrics, etc. according to their fabrics and processes.
1. Printed cloth: The color and pattern are printed on the plain fabric by transfer or garden net, which is called dyed cloth. Its characteristics: colorful, rich and delicate patterns.
2, dyed cloth: dye a single color on a white fabric called a dyed cloth. Its characteristics: elegant, natural.
3, yarn-dyed fabric: according to the needs of the pattern, the gauze is first classified and dyed, and then interwoven to form a color pattern called a yarn-dyed fabric. Its characteristics: strong color fastness, clear color texture, and strong three-dimensional effect.
4, jacquard printing cloth: the jacquard and printing two processes combined together called it jacquard color cloth.
Selection of blackout curtain fabrics
Different styles and materials should be used with different textures (raw materials) or varieties of embroidered curtains. Classical solid wood furniture, most suitable for jacquard cloth, yarn-dyed fabric, plant, flower, fish and insect pattern is its constant theme. The two are accompanied by light and soft, calm and concise, yet elegant atmosphere. The panel furniture is more suitable for the light and thin printed fabric, which fully mobilizes the visual feeling of lines, color blocks and geometric figures, and creates a vivid, romantic and simple modern life scene. Modern furniture has a wider range of choices, and silk and metallic luster fabric curtains are the first choices.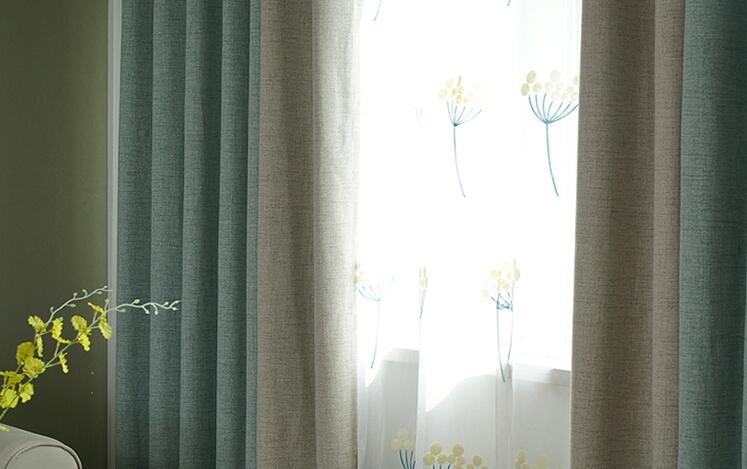 Match
When choosing the texture of the blackout curtains, you should first consider the function of the room. For example, the bathroom and the kitchen should be compared with practicality.
UNITEC Textile Decoration Co.,Ltd is a professional manufacturer of Blackout curtain fabric, curtain fabrics for home, home curtain fabrics